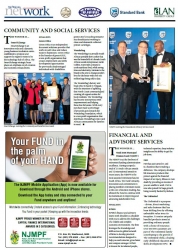 NJMPF receiving the Financial and Advisory Services Award
KZN Top Business 2017 : Financial And Advisory Services : THE WINNER IS Natal Joint Municipal Pension Fund (NJMPF )
2017-08-11
THE WINNER IS ... Natal Joint Municipal Pension Fund (NJMPF )

The NJMPF is at the forefront of retirement funding administration excellence. Having scooped a total of 21 South African awards and 12 international awards in recent years, the NJMPF is the most awarded retirement fund in South Africa. The Fund's tenacity, innovation and commitment in placing members retirement needs at the core of decision making, has allowed the Fund to continue with its momentum in improving and advancing stakeholders lives.

FINALISTS
KPMG
KPMG's finance and advisory teams work shoulder-to-shoulder with you to address the challenges of a volatile and complex economic environment. The firm leverages the knowledge and skills across its global network of firms to develop practical recommendations designed to help you work smarter, grow faster and compete stronger. KPMG is known for its talented people, technical expertise, deep industry insights and its ability to get the job done.

FMI
FMI has just turned 21 and is a business that is making a difference. The company develops life insurance products that protect against the financial impact of an injury, illness or even death by providing an income if you are unable to work. FMI is now also poised for huge growth being recently backed by Bidvest.

The Unlimited
The Unlimited is a purpose - driven, direct marketing and sales business that has been shifting lives by offering unbeatable value since its inception. It creates uniquely bundled products aimed at providing ordinary people with a choice of insurance. Over 650 000 customers are part of The Unlimited family contributing to the growth of The Unlimited Child, a leading early childhood education and skills development NPO.
---