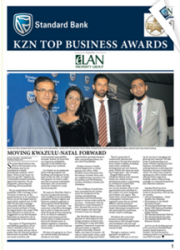 Standard Bank KwaZulu-Natal Top Business Awards powered by the eLan Property Group
KZN Business Award s - 2017 CELEBRATING BUSINESS
2017-08-07
The 2017 Standard Bank KwaZulu-Natal Top Business Awards powered by the eLan Property Group were
held at a glamourous gala event on Thursday 3 August at The Wavehouse, Gateway, uMhlanga.
The much anticipated event celebrates the achievements of KwaZulu-Natal's top companies and organisations in different industry sectors, in both the private and public sectors.
Imraan Noorbhai, Standard Bank Provincial Head KZN, welcomed the guests to the evening's proceedings and emphasized Standard Bank's support for the economy through partnerships. He said, "We believe that Africa
is the best place to do business, and we are motivated by a deeply philanthropic purpose, which
states: "Africa is our home, we drive her growth". To realise this purpose, we need to make sure that we partner individuals,businesses, and communities across the continent to create shared prosperity." eLan Property Group, CEO Mark Taylor said, "We are delighted to continue to be part of this event as they rightfully recognise some of the best businesses KZN has to offer. With our vast experience of dealing with business in the
province, we want to be aligned to brands that are reputable and respected in our province." Publisher of the KZN Top Business Portfolio, Lalita Dhasiar-Ventura said, "These Awards recognise and pay tribute to the successes of the world class enterprises we have in Kwa Zu lu-Nata l." The Standard Bank KwaZulu-
Natal Top Business Awards powered by the eLan Property Group's criteria have been drawn from the principles of the King IVâ"¢ Report on Corporate Governanceâ"¢ in South Africa 2016. In line with King IV, the Awards focus on the organisation/ company success in relationship to the economic, environmental and social spheres in KwaZulu- Natal. Factors such as brand and reputation, stakeholder relations and goodwill, environmental
sustainability, social responsibility, and quality of governance are all taken into account.