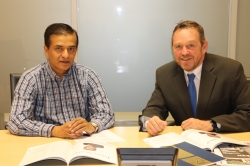 Imraan Noorbhai, Provincial Head Standard Bank, recently announced that the bank will be sponsoring the KZN Top Business Awards 2018.
Standard Bank has announced its sponsorship of the KwaZulu-Natal Top Business Awards 2018.
"Standard Bank KwaZulu-Natal has an extensive footprint throughout the province, with particularly effective and innovative personal and business banking divisions," says Imraan Noorbhai, Provincial Head of Standard Bank KZN. "As such, we are proud to participate in the KwaZulu-Natal Top Business Awards, as they provide an opportunity for businesses and their leaders to be recognised for their efforts, commitment and successful contributions to the socio-economic growth of the province."
He adds, "As a brand, we are passionate about making progress real, helping our clients on the journey to their Next. We aspire for KwaZulu-Natal to become a prosperous province â€" with a healthy, secure and skilled population living in dignity and harmony â€" acting as a gateway to Africa and the world. To realise this purpose, we need to make sure that we partner individuals, businesses and communities across the province to ultimately make a difference."
Grant Adlam, publisher and driving force behind the KwaZulu-Natal Top Business Portfolio, a well-respected marketing resource, says, "We are delighted that Standard Bank has come on board for this annual event. Over the past ten years, the Top Business Awards have become a high point of the business calendar and assist in showcasing the province's success stories. We are also proud to be celebrating the 20th edition of the KwaZulu-Natal Top Business Portfolio this year."
The range of awards on offer highlight the achievements of leading businesses across key industry sectors. To be eligible for a category award, entrants need to demonstrate how their companies have embraced the core values of business excellence, sustainability and responsibility, which are principles in line with the King 1V Report on Corporate Governance.
Entries for the 11th KwaZulu-Natal Top Business Awards are now open, closing only on 31 May 2018. The Standard Bank KZN Top Business Awards 2018 gala dinner will be held on Thursday, 21 June at the Southern Sun Elangeni & Maharani Hotel.
Members of the public can also get involved and show just how much their local businesses mean to them by voting for the top brand in KwaZulu-Natal through an online poll. This award is much coveted by all entrants and hotly contested each year.
For more information on all categories and their entry requirements, visit
www.kzntopbusiness.co.za