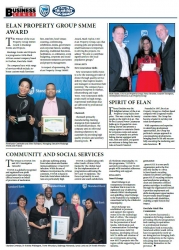 Community and Social Services - The Winner is THINK
Community and Social Services - The Winner is THINK
2018-07-13
The Winner is THINK (TB and HIV Investigative Network)

THINK is a globally recognised and registered non-profit organisation that conducts clinical research on behalf of providers of medication to alleviate suffering arising from tuberculosis and human immunodeficiency virus (HIV) infection. While its area of influence incorporates the African continent, THINK is based in KwaZulu-Natal where infection rates are particularly high.

THINK is collaborating with other South African NPOs funded by The Global Fund for the implementation of programmes addressing the HIV and TB epidemic. The focus is primarily in west, central and south subdistricts of eThekwini Municipality. In this programme, THINK is currently providing over 90.000 people with treatment adherence counselling and support.

FINALISTS
SmartXchange
SmartXchange is an Entrepreneur Development Incubator that is now in its eighteenth year of delivering
towards SMME development and upskilling. SmartXchange is the brainchild of a multiparty consortium led by the eThekwini Municipality.

SmartXchange was established to promote and support the region's vision to be the technology hub of Africa. The concept was to provide a portal for the promotion of local Media, Information and Communication Technology and electronics (MICTe) business, developing of local MICTe skills and creation of an environment attracting new MICTe projects into the region whilst supporting local SMMEs.

greenABLE
greenABLE is a non-profit organisation and is the first and only facility in Africa to have found a recycling
solution for printer cartridges. greenABLE's recycling initiative sees beneficiaries working to clean and dismantle collected printer cartridges. In addition, through the organisation's model it provides employment and skills development opportunities for previously disadvantaged individuals with disabilities, enabling a triple bottom line impact.

KwaZulu-Natal Film Commission
The KZNFC has earned a reputation for being a leader in providing effective programmes and running its operations in a professional manner.

Filmmakers both in KwaZulu-Natal and within South Africa have recognised the work we are doing and are bringing both their productions to the region, relocating their businesses or relocating themselves to the
province.
---