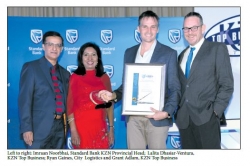 Transport, Storage And Communication - The winner is City Logistics
Transport, Storage And Communication - The winner is City Logistics
2018-07-13
The winner is City Logistics This year, City Logistics celebrates 30 years in business, and this anniversary
is an opportunity to highlight many of their achievements.

While transport remains a vital service offering, the company continuously looks to add value to their stakeholders and has expanded their market offering beyond the services traditionally offered by logistics
companies. Innovation, geared to meet industry demands and customer needs, has played a significant role in the success of City Logistics, and the company has recently included a home delivery solution that capitalises on the shift to e-commerce retailing, with a part acquisition of Fastway Couriers.

FINALISTS
King Shaka International Airport
Regarded as one of the best airports in the world, passenger numbers and flights have been on the increase since King Shaka International Airport (KSIA) opened eight years ago.

Now in its eight year of operation KSIA has garnered many accolades over this short period. The accolades include being named the best regional airport in Africa for the past four years, the fourth best
airport in the world in the 5 to 10 million passengers category (all by Skytrax) and being named the third best in Africa in the 5 to 10 million passengers category by the Airports Council International. The award that the airport is very proud of is the Skytrax for the Best Airport Staff in Africa 2017. KSIA was also voted internationally as the 10th Most Punctual Airport in the world in its category by OAG Aviation Worldwide in 2017.

Mediterranean Shipping Company (MSC)
MSC is a world leader in global container shipping and has access to an integrated network of road, rail and sea transport resources which stretches across the globe. The company is unparalleled in offering
excellent and flexible customer service. MSC has an innovative, flexible and unique approach to shipping that has allowed the company to grow significantly over the last twenty years.

Founded in 1970, MSC is now the biggest user of the South African ports and by 2003 was the second biggest container carrier in the world.
---