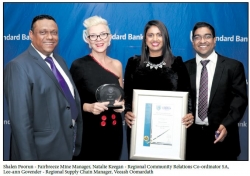 Mining And Quarrying - The winner is Tronox
Mining And Quarrying - The winner is Tronox
2018-07-13
The winner is Tronox.

Tronox is the world's largest fully integrated producer of mineral sands and pigment.

The year 2018 is expected to be another year of strong performance, as the company expects to benefit from favourable market conditions in both pigment and titanium feedstock. As the industry's only fully integrated producer, Tronox's anticipates benefitting from rising margins at both the feedstock and pigment levels.

Tronox SA enables high investor returns through the zealous processing of its world class mineral resources. The company has a passionate commitment to the safety of its workforce and are dedicated wardens of the environment in which it works.

The company is resolutely committed to the well-being and upliftment of its local communities who form the lifeblood of the business operations.

Supported by strong governance, principles of risk management and dutifulness to South Africa's laws, Tronox builds trusting relationships with its stakeholders as the company understands the mutual need for one another to sustain and add value to the business daily and over the long term. In addition, Tronox will conscientiously and continually optimise its assets.
---