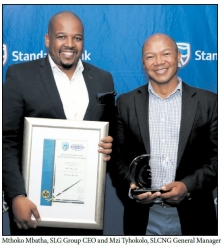 Utilities Sector - The Winner is SLG (Pty) Ltd
Utilities Sector - The Winner is SLG (Pty) Ltd
2018-07-13
The Winner is SLG (Pty) Ltd SLG Group CEO Mthoko Mbatha said, "As SLG, we are pretty excited about the award as well as the recognition we have received."

He added, "We are a 100% black owned company. Having young people running the organisation, taking the gas industry to great heights is something that is phenomenal for SLG."

SLG has a stellar 16-year record of supplying gas to industrial customers in KwaZulu-Natal since its inception in 2002. The company has since expanded its market footprint to cover the Gauteng province.

In 2015 SLG established SLCNG, a new entity, to compress and transport natural gas to industries situated far from the gas pipeline network.

SLCNG has since become the largest supplier of compressed natural gas in South Africa.
---