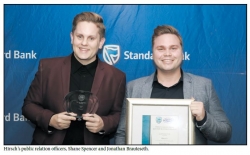 Trade Sector Award - The 2018 winner is Hirsch's
Trade Sector Award - The 2018 winner is Hirsch's
2018-07-13
TRADE SECTOR AWARD - The 2018 winner is ... Hirsch's

Hirsch's has built a solid reputation by being associated with big brands, giving good service and carrying a wide range of products for the home, as well as supporting its employees and the communities in which the stores operate.

Hirsch's has been serving the public in KwaZulu-Natal for the past 39 years. They are passionate about this province, to the extent that they have kept their head office in KwaZulu-Natal (six branches) even though they have nine branches in Gauteng.

Hirsch's are enormously involved in the KwaZulu-Natal community, holding free monthly networking business events in all their branches to help local entrepreneurs expand their own businesses.

Women are a particular focus for Hirsch's and the Margaret Hirsch Woman in Business Award has become very much sought after by business women in the province. They have a training centre for their staff in
Umhlanga, and this is used for up skilling suppliers' staff in the retail industry.

FINALISTS
Star Retailers
Star Retailers comprises seven independent Spar supermarkets in the greater Durban area.

Founded in 2008, with the opening of their first store, Starwood SuperSpar in Phoenix, the group has grown dramatically over the past ten years. Star Retailers is recognised by both their customers and the
Spar Group as a success story.

Ravi and Serena Jagadasan attribute their success on the groups' culture and strategy which has been implemented.

The Ramsi Group
The Ramsi Group is one of the largest distributors of sewing machines and spare parts in the country and is driven by the desire to be the leader in its industry. Consequently, the main goal of CEO Sherwin Ramlall and directors Ram and Shawn Ramlall is to distribute a range of sewing related products that will add value to their current customers and attract new customers.

The company supplies over 10 000 spare parts for all sewing machines and has more than 20 industrial and domestic Saito sewing machines, cutting and steam equipment. The company also distributes its own brand of household oil/lubricant. Products are sourced from Germany, South Korea, Indonesia, Vietnam, the United States, China, Taiwan, Japan and Malaysia.
---