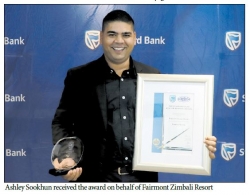 Tourism Award - The Winner Is Fairmont Zimbali Resort
Tourism Award - The Winner Is Fairmont Zimbali Resort
2019-01-21
The Winner is Fairmont Zimbali Resort

Fairmont Zimbali Resort promises legendary hospitality, superb attention to detail and an atmosphere of pure paradise.

The resort plays an active role in stimulating both international and domestic tourism to the province and the north coast region.

Fairmont Zimbali Resort is one of the largest employers in its area with a permanent head count of 155 employees and additional seasonal staffing of approximately 211 employees.

Through its affiliation with TOMSA, its guests contribute a 1% tourism levy which enables tourism bodies to better market the destination, thereby contributing to increased job creation and revenue opportunities within the tourism sector.

FINALISTS
Beekman Group
The Beekman Group is well established as one of the country's leading companies in the leisure and accommodation sector. With property investments of R1.3 billion and over 45 years' industry experience, the Beekman Group has the expertise and infrastructure to ensure that all their business ventures are a success. The Group has successfully sent over seven million people on holiday throughout South Africa since 1993. The Holiday Club is Africa's top performing vacation points' ownership company.

Durban ICC
Since opening in 1997, the Durban ICC has led the way for South Africa's conventions industry and pioneered the country's ability to attract international events to its shores.

Over the years, the Centre has successfully hosted some of the world's largest and most prestigious events and has been the platform for the discussion of many global issues.
---