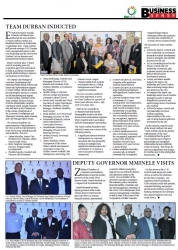 Zululand Chamber - Deputy Governor Mminele Visits
Zululand Chamber - Deputy Governor Mminele Visits
2018-09-14
Zululand Chamber of Commerce and Industry members hosted the deputy governor of the South Africa Reserve Bank, Daniel Mminele on 1 August 2018 in Richards Bay.

Daniel Mminele has been deputy governor of the South African Reserve Bank (SARB) since July 2009. He oversees financial markets, international economic relations and policy, legal services as well as the human and operations cluster at the SARB. He is a member of the governor's executive committee, the monetary policy committee, financial stability committee and the risk management committee of the SARB. He is chairperson of the Reserves Management Committee as well as chair of the Board of the Corporation of Public Deposits.

He also serves as the G-20 Central Bank deputy for South Africa, as well as the chairman for the IMFC Deputies. His experience before joining the SARB includes credit-risk analysis, corporate banking, and project and structured finance at private banking institutions in Germany, the United Kingdom (UK) and South Africa.
---