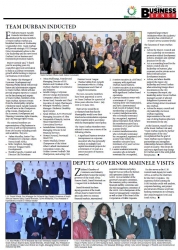 Mayor Zandile Gumede - Team Durban Inducted
EThekwini Mayor Zandile Gumede introduced and inducted the new members of Team Durban Durban at a breakfast function on Wednesday 5 September 2018. Team Durban will provide strategic FDI (Foreign Direct Investment) advice to the City leadership and the new Invest Durban Unit on business and investment promotion matters.
Mayor Gumede said, "I thank you for accepting your city councillor approved nomination to help us accelerate investment growth whilst looking to improve our business environment."
The Deputy City Manager of Economic Development and Planning Phillip Sithole will provide liaison and administrative support to Team Durban. Sithole will also provide progress reports to Council on the functioning and outputs of Team Durban. Members of the Team Durban Advisory Forum from the Municipality comprise eThekwini Mayor Zandile Gumede who will serve as the Chairperson of the Forum, Chairperson of the Economic Development and Planning Committee Sipho Kaunda, and City Manager Sipho Nzuza.
The external members are representatives of big business in the City as well as representatives from civil society including youth and academia. They are:
Suben Moodley, Senior Vice President for Corporate Affairs Toyota South Africa
Mike Deighton, Managing Director Tongaat Hulett Developments
Themba Ngcobo, Founder and Director Exel Petroleum
Musa Makhunga, Founder and Managing Director of HR Matters and President of the Durban Chamber of Commerce and Industry
Sandile Zungu, Corporate Director Zungu Investments Company Limited (ZICO)
Steven Saad, Founder and Chief Executive of Aspen Pharmacare
Mlungisi Ntombela, General Manager eThekwini Disability Sport Forum
Faisal Mkhize, KZN Provincial Managing Executive of Absa
Zanamuhla Khanyile, Section Head Department of Correctional Services
Samukelisiwe Nzimande, Managing Director K2M Financial Services
Howard Arrand, Provincial Head FNB
Manto Madlala, former Chairperson of the Inkosi Albert Luthuli International Convention Centre, the Golden Arrows Football Club Chairperson, and acting CEO Premier Soccer League
Thulisa Ndlela from Ayigobi Investments who is a Young Entrepreneur and Chair of Ayigobi Investments.
The non-executive members have been appointed to serve on Team Durban for a period of three years effective from 1 July 2018 to 30 June 2021.
Their service would be on a voluntary basis but that the Municipality would cover their travel and accommodation expenses where required and in accordance with the Municipality's travel policy.
The Team Durban Members were selected to meet one or more of the following criteria:
A significant business investor (entrepreneur or corporate executive) who has personally worked on multiple fixed capital investment projects for a minimum of 15 years at a senior executive or business owner level.
A senior executive at a JSE listed company with significant Durban-based business.
A senior executive at an existing large multinational business with significant Durban-based operations.
A private business owner with a minimum of 15 years running their own business(es), and have a demonstrated track record of industry body membership or leadership.
A senior member/executive who is formally nominated by a recognised, registered labour federation body (where the member/executive has a minimum of 10 years' service at senior levels).
A senior member/executive who is formally nominated by a recognised, registered civil society body (where the member/ executive has a minimum of 10 years' service at senior levels).
A senior academic/university executive who is formally nominated by a recognised, registered large tertiary institution where the academic/ executive has a minimum of 10 years' service at senior levels).
The functions of Team Durban are to:
Advise the Mayor, Council and City Leadership on investment promotion related development policies, strategies and optimal practices for the city.
Act as a sounding board for the mayor, council and city leadership on business, plus economic and/or private sector linked infrastructure development matters.
Advise, and where feasible support the mayor, city leadership and Invest Durban when attracting foreign direct investments to the City
Accompany the mayor, city leadership and/or Invest Durban managers as part of selected delegations to promote and attract foreign direct investment into Durban.
Advise the mayor, council and city leadership via Invest Durban regarding improvements to the cost/ ease of doing business plus new investments in the city.
At the function, Russell Curtis of the Invest Durban Unit said, "Team Durban marks the further sophistication of the City."
He explained that the goal of Team Durban was to improve partnerships and strengthen relationships between different sectors in society. This forum he said was a significant step change for Durban and in line with global best practice.