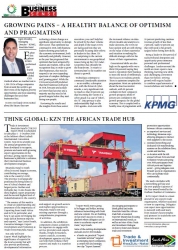 TIKZN - Think Global : KZN The African Trade Hub
Trade & Investment KwaZulu-Natal's (TIKZN) Export Week is scheduled to take place 1 - 5 October 2018 at the Inkhosi Albert Luthuli International Convention Centre. Now in its seventh year, the annual programme has been developed to recognise, promote and assist with growing export opportunities in the province, giving export ready businesses a platform to enhance their international business development strategies.
KwaZulu-Natal is South Africa's second largest economy, contributing on average, 16% to the country's GDP. The province is strategically positioned by being home to two of Africa's busiest and largest ports: Durban and Richards Bay. It also boasts the third highest export propensity and the second highest level of industrialisation in the country.
"The essence of this week is to create an understanding and awareness of the importance of Exporting from South Africa and KZN in particular, and how it can assist in bridging the trade deficit between imports and exports," says Lester Bouah, Executive Manager: Export Development and Promotion at Trade Invest KwaZulu-Natal.
Not only will KZN Export Week highlight the significance of exports for the local economy but will also provide professional, developmental information and support on growth sectors and market opportunities to KwaZulu-Natal's new and existing exporters through a comprehensive programme of activities.
In addition, the exhibition component creates a platform for exporters to engage with service providers and experts (banks, freight forwarders, export councils, economic development agencies etc) that can help them enhance their exports and make it a seamless process.
"Export Week 2018 is going to be bigger and bolder, mixing enhanced networking with fresh and new content. We are building on last year's success to create a platform where delegates can do more to accelerate export and trade," says Bouah.
Some of the exciting developments and add-ons for 2018 include:
a hands-on, practical "Export Essentials Seminar" targeted at emerging export companies; a content rich and strategic two-day "Export Summit" encouraging participants to think global and make KwaZulu-Natal the African trade hub; a Seasoned Exporter Masterclass focusing on international trends, as well as an Inter-Africa Trade and Investment Dialogue on how to foster and enhance trade and investment promotion opportunities between African countries;
an exporters' services and technology showcase expo allowing delegates to interact with suppliers to the sector;
extended networking and dedicated B2B matchmaking sessions on the exhibition floor, socials and lunches;
co-location with the 6th annual African Ports and Rail Evolution Forums attracting over 3000 participants from Africa's ports and logistics sector - giving delegates even broader access to organisations who can facilitate trade continentally.
The week concludes with a networking golf day and the ever-popular Exporter of the Year award hosted by the Durban Chamber of Commerce.
KZN Export Week is a must attend for any export ready organisation, whether seasoned or new to exporting. Delegates can expect new opportunities to network with and learn from industry heavyweights and pioneers to transform new ideas into action.
For more information, please see
www.tikzn.co.za/exportweek