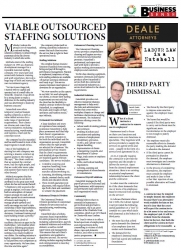 Patrick Deale - Third Party Dismissal
Patrick Deale - Third Party Dismissal
2018-09-15
Labour lawyer & mediator
What if a client instructs a contractor to remove one its employees?
Businesses tend to focus on their core functions and outsource non-core functions to specialists. They negotiate with service providers to supply the services on agreed terms and costs - usually in the form of a
service level agreement (SLA).
An SLA typically requires the contractor to provide the expertise and the people to deliver the services. Apart from the deemed employment situations, there is no existing or potential employment relationship between the client and the contractor.
So what must the contractor do if the client demands that one or more of its employees must be removed from working on the service?
In Lebowa Platinum Mines Ltd v Hill1, the Labour Appeal Court provided the following useful guidelines or a "test" to consider in a case which deals with dismissal at the behest of a third party.
The mere fact that a third party demands the dismissal of an employee does not render such dismissal fair.
The demand for the employee's dismissal must have had a good and sufficient foundation.
The threat by the third party to impose some sanction against the employer must be real.
The harm that would be caused if the third party were to carry out its threat must be significant; mere inconvenience to the employer is not enough to justify dismissal.
The employer must take reasonable efforts to dissuade the party making the demand to abandon the demand.
If the third party cannot be persuaded to abandon the demand, the employer must investigate and consider alternatives to dismissal.
In the process of considering alternatives, the employer must consult the employee and make it clear to him or her that rejection of any possible alternative will result in dismissal.
TIP:
A contractor may be tempted to simply dismiss the employee because there's no alternative work available for him or her.
But it's clear that the court will expect the contractor to do a lot more to try and rescue the employee's job. It will be evident from the elements listed in the test, that both the client and the contractor have obligations to be reasonable.
1 (1998) 19 ILJ 1112 (LAC) and Grogan "Dismissal" page 536
Offices in KZN and Johannesburg
C: 083 375 8771
E:
patrick@deale.co.za
www.deale.co.za
---