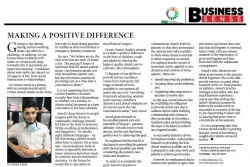 Dr Fareed Amod - Making A Positive Difference
Getting to the dentist during normal working hours can often be a challenge. In addition, no one knows when toothache will strike or a front tooth chip; normally this is just before an important meeting. Confidence about your smile can impact on all aspects of life, from social interactions to relationships.
Dr Fareed Amod is a dentist with an entrepreneurial spirit. Crown Dental Studio is one of the few truly 24-hour dental practises in Durban as this is not limited to emergency dentistry treatment. He says, "We believe we are the only ones that are open 24 hours a day. The practice's hours of operation help fill unmet patient needs. Our business model, not only streamlines patient care, but also prioritises patients by providing care at a time that is convenient to them."
It is not surprising then that a senior business executive recently flew from Johannesburg to Durban, on a Sunday, to obtain dental treatment at a time convenient to his busy schedule.
Amod's deep interest in people coupled with his desire to continually challenge himself led him to the field of dentistry.
While excelling at mathematics and linguistics - he speaks eight different languages - he felt that being a dentist would allow him to explore his artistic side. His professional field of choice is especially relevant as
many advances have been made in cosmetic and reconstructive dentistry. In the future he would like to specialise in maxillofacial surgery.
Crown Dental Studio's mission is to make a positive difference in the lives of children, youth and adults by offering the highest-quality dental care in a private-office atmosphere.
"A big part of our ability to provide service excellence comes from having the full range of dental services
available to our patients all under the one roof. Everything from teeth whitening, wisdom teeth removal, children's dentistry and dental implants are all carried out in the one convenient location," said Amod Amod prides himself on his excellent patient care and especially of his goal - painless dentistry. His aim is not to hurt anyone, and he says that being gentle is key to achieving this goal.
He explained further that he is dedicated to providing his patients with the best possible care while considering the patient's own needs and situations.
In order to accomplish this goal, Amod is at pains to communicate clearly with his patients so that they understand the options and risks available to them when dental treatment is either requested or needed.
He explains that his model of treatment can be applied to any situation and consists of three aspects. These are:
Identifying what the problem is
Deciding what can be different, and
Explaining what steps need to be taken to resolve this In this way Amod believes that he is fulfilling his obligation to provide dental care that is solution driven while building a relationship with clients as they participate in choosing a treatment plan and prioritising the steps to be taken to achieve any required results.
As successful dentistry drives his business model. Amod prides himself on providing the best dental material available and he is prepared to take time with each patient to achieve good results. However, he emphasised that he wanted each patient to agree that prevention was better than cure and that oral hygiene is essential.
Many South Africans remain unaware of the importance of good oral hygiene and then must deal with the unpleasant consequences.
Amod's wife, whom he met when at university, is the practice dental hygienist. She is also able provide services or assist when required in the 24- hour practice. In addition, Amod's practice manager is his father, who has much business experience. Amod says that without his father's financial acumen he believes he would not be as successful as as much of the day to day functioning is taken care of, leaving him more time to concentrate on his patients.
It is not surprising then that Crown Dental Studio is growing fast and Amod is becoming a sought-after dentist across all sectors.
CROWN DENTAL STUDIO - YOUR 24 HOUR DENTIST 24/7
NUMBER - 081 207 8621
E:
info@dramod.co.za
W:
www.dramod.co.za