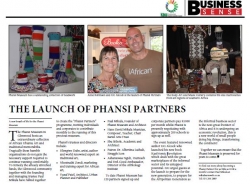 Paul Mikula - The Launch Of Phansi Partners
A new breath of life for the Phansi Museum.
The Phansi Museum in Glenwood hosts an extraordinary collection of African Ubuntu Art and traditional memorabilia.
Tragically these humble organisations do not gain the necessary support required to continue running comfortably.
To remedy the already stretched funds, the Glenwood community together with the founding and managing trustee Paul Mikula have rallied together to create the "Phansi Partners" programme, inviting individuals
and corporates to contribute monthly to the running of this precious museum.
Phansi's trustees and directors include:
Hlengiwe Dube, artist, author and world renowned expert on traditional art,
Nkosinathi Zondi, marketing and training expert for African art,
Yusuf Patel, Architect, Urban Planner and Publisher
Paul Mikula, Founder of Phansi Museum and Architect
Hans David Mikula Musician, Composer, Teacher, Chair Bartel Arts Trust
Sbu Sithole, Academic and Architect
Patron Dr. Albertina Luthuli, Struggle Icon
Ashantewaa Ngidi, Outreach and Feel-Good Ambassador, Director of the Afrikology Institute
To date Phansi Museum has 120 partners signed up and corporate partners pay R1000 per month whilst Phansi is presently negotiating with approximately 200 schools to sign up as well.
The event featured renowned author GG Alcock who launched his new book KasiNomic Revolution which deals with the great marketplaces of the informal sector and its untapped potential. GG urged guests at
the launch to prepare for the new generation, to prepare for the Afripolitan Generation as the informal business sector is the next great frontier of Africa and it is undergoing an economic revolution, this is a new world of small people doing big things, transforming the continent!
Together we can ensure that the Phansi Museum is preserved for years to come.
To find out more about becoming a Phansi Partner (for as little as R100 a month) contact Paul Mikula at
mikula@mweb.co.za
Tel: 031 206 2889