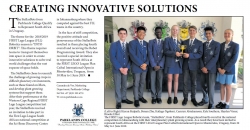 (Left to Right) Kieran Redpath, Bonan Zhu, Katlego Ngobeni, Camryn Abrahamson, Kyle Southern, Hayden Visser, Brooke Elliot The FIRST Lego League Robotics team, "StellarBots", from Parklands College placed fourth overall at the national competition
Creating Innovative Solutions - Parklands College
2019-04-22
The StellarBots from Parklands College Qualify to Represent South Africa in Uruguay.
The theme for the 2018/2019 FIRST Lego League (FLL) Robotics season is "INTO ORBIT". This theme requires teams to transport themselves into space in order to create innovative solutions to solve real world challenges that the vast expanse of space holds.
The StellarBots chose to research the challenge of growing crops in difficult planetary environments, such as those found on Mars, and develop plant growing systems that support these. After their performance at the Western Cape Regional FIRST Lego League competition last year, the StellarBots received an invitation to take part in the First Lego League South African national competition at the Sci-Bono Discovery Centre in Johannesburg where they competed against the best FLL teams in the country.
In the face of stiff competition, the positive attitude and perseverance of the StellarBots resulted in them placing fourth overall and receiving the Robot Programming Award. They also received a special invitation to represent South Africa at the FIRST LEGO League Plan Ceibal International Open in Montevideo, Uruguay, from 30 May to 1 June 2019. <
Casandra de Vos, Marketing Department, Parklands College Int Tel: +27 (0)21 522 6731 W:
www.parklands.co.za
---