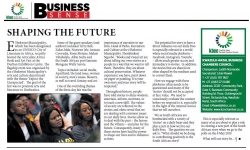 Shaping the Future - KBCC
EThekwini Municipality, which has been designated as an UNESCO City of Literature in Africa, recently hosted the Articulate Africa Book and Art Fair at the Durban Exhibition Centre. The flagship event was organised by the eThekwini Municipality's arts and culture department with the theme 'Expect the Unexpected'. The goal of the fair was to promote arts and literature to Durbanites.

Some of the guest speakers (and authors) included Terry Bell, Zakes Mda, Nozizwe Jele, Imraan Coovadia, Rosie Motene, Melusi Tshabalala, Albie Sachs and the South African poet laureate Mongane Wally Serote.
Topics included: social media, Apartheid, the land issue, women in society, men's issues, blessers, as well as travel, fantasy and art.
One of the overriding themes of the three-day fair was the importance of narrative in our lives. Head of Parks, Recreation and Culture at the eThekwini Municipality, Thembinkosi Ngcobo. "Books and visual art are about telling our own stories as a people in a way that we want to tell them. Therefore, they are about cultural preservation. Whatever experience you have, put it down on paper or painting. It is your own story and your story will be respected."
Throughout history, people have told stories to share wisdom, entertain, inform, motivate, or to teach a new skill. The values of society are reflected in the stories and often reveal that we are dealing with common issues in our daily lives. Stories allow us to deal with the past â€" the heroes and the villains â€" and plan for the future. Consequently, many of these stories have had the power to shape our lives and to influence actions.
The potential for story to have a direct influence on our daily lives is especially relevant in a world where social media platforms â€" Facebook, Instagram, Youtube â€" allow much greater access and immediacy to stories. In addition, the stories that are shared are often shaped by the medium used to convey them.
How we engage with these platforms often needs to be questioned and many of the 'stories' should not be accepted at face value. We need to consciously evaluate the content before we respond to it, especially in the light of the internal stories that we tell ourselves.
We as South Africans are bombarded with a variety of 'stories' on a daily basis and they play a part in how we live our daily lives. The question we can ask is, "What should we be doing to contributing positively to the South African story?
This is especially relevant as many of us are about to play a role in creating a new part of the South African story when we go to the polls on the 8 May 2019.
What will our story be…?
www.kznchamber.co.za