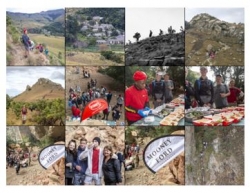 The Big 5 Hike
The Big 5 Hike
2019-05-07
The Big5Hike was initiated in 2014 by The Carte family, owners of The Cavern Berg Resort together with their friends, the Carters help raise funds for The Royal Drakensberg Primary School.
All these funds go to educating the children. We are building an annuity for the future and have just 5 more Big5Hikes planned.

Challenge yourself and hike the Cavern's Big Five - Hlolela, Battleship, Sugar Loaf, Cold Hill and Camels Hump.
Cost: Raise R7000 per hiker and stay free at our resort! J
All proceeds from this hike go to the Royal Drakensberg Education Trust.

Dates: 24 - 26 May 2019

The Big 5 Hike summits the 5 peaks that surround the Cavern and it is approximately 18 kms and takes most folk 8 hours. Hikers need to raise R7000 and they have the weekend on us. If you would like to bring children or partners along they are welcome at a reduced rate of R1120 per adult sharing per night and children paying a percentage depending on their ages.

It really is the most fabulous event and unique hike. We have a Mugg&Bean coffee station half-way up the first peak, then Sparkle Treats near Sugar Loaf followed by Wimpy Burgers in Cannibal Cavern. We are welcomed home by Total Gateway with a wonderful party on our lawn. All the hikers get sponsored kit - a t-shirt, fleece, beanie and backpack.
Our aim is to find a few more Corporate sponsors for the peaks. The cost of this is R25 000. All this funding goes directly to the project and we are able to issue 18A donation receipts.

For more details about this awesome event please visit our website www.big5hike.co.za or contact us.
---