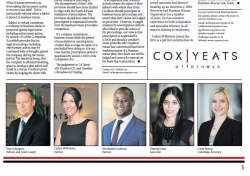 Thys Scheepers, Partner and Team Leader Callyn Wilkinson, Partner Nkosinathi Gobhozi, Partner Tasmiya Patel, Associate Carla Bishop, Candidate Attorney
The Insolvency & Business Rescue Law Team consists of Thys Scheepers, Partner and head of this team; partners Callyn Wilkinson and Nkosinathi Gobhozi; Associate Tasmiya Patel and Candidate Attorney Carla Bishop.
The law team has extensive experience in insolvency, schemes of arrangement and debt recovery and has represented individuals, SMEs and large corporates in this regard. Their focus is on:
Liquidations and sequestrations
Cross-border insolvencies
Business rescue
Insolvency interrogations
Perfecting securities
Offers of compromise and schemes of arrangement
Thys Scheepers joined the firm as a partner in 2014. Thys previously practiced as a senior associate and director heading up an Insolvency, Debt Recovery and Business Rescue Department for a number of years. He has extensive experience as both a liquidator and specialist attorney in all matters relating to insolvency.
Callyn Wilkinson joined the firm as a partner and practises in the fields of insolvency, business rescue and debt recovery as well as matters relating to the Prevention of Organised Crime Act. Callyn has extensive experience in assisting with estate management, debt recovery by way of sequestration, liquidation and business rescue as well as High Court litigation.
Nkosinathi Gobhozi is experienced in insolvency, general litigation and Road Accident Fund litigation. Nkosinathi joined the firm in 2017 as part of the Insolvency and Business Rescue Law Team.
Tasmiya Patel joined Cox Yeats in 2018 and is an Associate. She has experience in banking litigation and corporate litigation. She specialises in recoveries, which include liquidations, sequestrations and business rescue.
Candidate Attorney Carla Bishop joined Cox Yeats in 2018 as part of the Insolvency and Business Rescue Law Team. <
For any Insolvency & Business Rescue law queries, please contact the team on: Tel: 031 536 8500 or on Email:
tscheepers@coxyeats.co.za
;
cwilkinson@coxyeats.co.za
;
ngobhozi@coxyeats.co.za
;
tpatel@coxyeat.co.za
and
cbishop@coxyeats.co.za
Website:
www.coxyeats.co.za