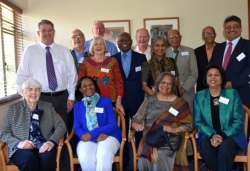 UKZN Foundation - Goodwill Ambassadors Lunch at UKZN Foundation
A selected group of Senior Graduates re-connected with their alma mater and fellow graduates at a lunch hosted by the UKZN Foundation.
The newly appointed Executive Director of the UKZN Foundation, Professor Anesh Maniraj Singh, addressed the group of retired graduates in a vibrant information sharing session where the purpose and function of the Goodwill Ambassadors Programme was explained. "The need for Goodwill Ambassadors was to extend the reach of both the UKZN Foundation and the University of KwaZulu-Natal to a far wider audience" said Singh.
Singh invited this initial group of senior graduates to become the core Goodwill Ambassadors by espousing goodwill on behalf of the university through their own networks and personal interactions with others thereby generating a more positive base of support for the institution and its activities.
Promoting UKZN's ongoing innovations, developments and achievements, Vice-Chancellor and Principal Dr Albert van Jaarsveld updated the group of senior graduates on the latest developments taking place at the university and concluded his address by endorsing the Goodwill Ambassadors Programme initiated by the UKZN Foundation.
The group of graduates enjoyed the opportunity to meet and engage with the Vice-Chancellor.
The event ended on a high note with all of our retired, yet still very active graduates, willing to partner with us on this wonderful initiative driven by the UKZN Foundation.
Ela Gandhi social activist and graduate of the university looked forward to the follow up progress from this initial meeting and stated "I think it was a good initiative and hope that we will be able to help take the University to a higher level."
Dr Alexander Coutts graduate and retired Deputy Rector of Edgewood echoed a similar sentiment and stated" that by placing the UKZN more consciously at the centre of ones thinking and infusing ones mind-set with positive highlighted elements of all things UKZN … we can only soar to higher heights!"