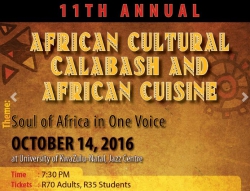 UKZN Foundation - 11th Annual African Cultural Calabash & African Cuisine
UKZN Foundation - 11th Annual African Cultural Calabash & African Cuisine
2016-11-17
UKZN's African Music and Dance (AMD) Discipline hosted the 11th Annual African Cultural Calabash and African Cuisine at the Centre for Jazz and Popular Music on UKZN's Howard College campus Friday 14 October.

The event is organised by third-year African Music Outreach: Community Development students under the theme: Soul of Africa in One Voice.

AMD student, Mr Philani Thabethe, said: 'We chose the theme simply because we feel it encompasses the spirit and unity of Africa. The concert itself showcases a variety of African music and dances from across the continent and pays homage to Africa and its soul and diversity.

'The Calabash is an institution. Regular concert-goers and newcomers to the event say it is an amazing, learning experience. The concert helps us appreciate what Africa has, and is a celebration of our cultures and heritage,' said Thabethe.

The evening's guest speaker was storyteller Mr Lungisani Mavundla of Ukhozi FM, who is known for creating a platform for grooming and developing young poets.

Headlining the concert is Maskandi Bahubhe from uMzinto Jolvet, who joined the music industry as a recording artist in 2011, releasing three albums: Kuyasinda (2011), Mpundula (2014) and Iquantum (2015). Bahubhe is reputed to be one of the best dancers/singers/storytellers in the maskandi genre.

Another act is Ubukhipha of Hluhluwe performing isigekle dance. They are the winners of the Sakhisizwe awards for best attire in 2013 and were best performers in 2015. Also on the bill are B'Scent-Shantu Musik Hausa-Fulani music and dance from Northern Nigeria, featuring the unique Shantu calabash. B'Scent recently performed at the Loveworld music festival.

Legon Palmwine Band performed Palmwine guitar music, an intricate Ghanaian guitar finger picking style that accompanies Akan storytelling.

Also on show were Nyuswa Home Boys isicathamiya vocal singers - four- time national isicathamiya champions at the Durban Playhouse, a SATMA awardee for best isicathamiya (2009), and winners of Isolezwe's isicathamiya competition. The group is led by Thando Nu Luthuli, who teaches isicathamiya in the UKZN African Music and Dance programme. Nyuswa Home Boys have performed in Brazil, the United States, and China.

Zulu poets Sabelo Mvelase and Brian Gwamanda added their flavour of poetry.

Lecturer for the module Dr Patricia Opondo said: 'Hosting the African Cultural Calabash provides an important learning experience for final-year students as they were taught how to curate a folk-life festival event and handle all the responsibilities involved in organising something of this magnitude. It also provides a great platform for artists from various genres of music/dance and from different parts of Africa to converge and share their cultural heritage.'

Refreshments after the Concert include enticing African dishes.

* This project is supported by an ANT Funding Grant from Pro Helvetia Johannesburg financed by the Swiss Agency for Development and Cooperation (SDC). Additional funding is from the National Arts Council of South Africa, Concerts SA and SAMRO Foundation.
---