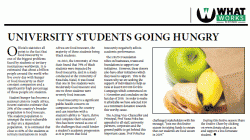 UKZN Foundation - University Students Going Hungry
Officials statistics all point to the fact that food insecurity is one of the biggest problems faced by students at tertiary institutions worldwide. It is estimated that about a billion people around the world who live every day with hunger or food insecurity as their constant companion and a significantly high percentage of those people are students.
Student hunger has become a national crisis in South Africa. Recent statistics estimate that 26% of the country's broader population is food insecure. The student population is amongst the most vulnerable as they are a dependant population. It is estimated that close to 60% of the students at tertiary institutions in South Africa are food insecure, the majority of these students being Black students.
In 2013, the University of Free State found that 79% of Black students were impacted by food insecurity; and in a study conducted at the University of KwaZulu-Natal, it was found that one in five students were moderately food insecure and one in three students were severely food insecure.
Food insecurity is a significant public health concern on campuses across the country and can interfere with a student's ability to "learn, thrive and complete their education". This has been viewed as one of the challenges that could hinder a student's academic progression as it is proven that food insecurity negatively affects academic performance.
The UKZN Foundation relies on businesses, trusts and foundations to support our initiatives. However, these donors also have other initiatives which they need to support. This is the reason why we are seeking the support of individuals to help us raise at least R100 000 for this Campaign which commenced on 1 November and concludes on the last day of 2018. In order to make it affordable we have selected R50 as a minimum donation towards this worthy cause.
The Acting Vice-Chancellor and Principal, Prof Nana Poku has appealed to all staff, university partners, corporates and the general public to get behind this important cause. Prof Poku has challenged stakeholders with his message, "Join me this festive season in raising funds to ensure that our students are food secure in 2019."
During this festive season Share the Festive Cheer by clicking on
www.donate.ukzn.ac.za
and support a less fortunate student.