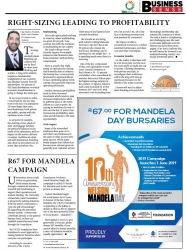 Anesh Singh - UKZN Foundation R67 For Mandela Campaign
Anesh Singh - UKZN Foundation R67 For Mandela Campaign
2019-04-23
Universities across South Africa are generating third stream income through commercial initiatives, research and fundraising to support their operations and student funding. The University of KwaZulu-Natal Foundation is proactively seeking donations from the donor community to "give the gift of knowledge" by supporting the university bursary system. Donors may contribute directly to the general bursary fund, or they can establish named bursary funds through the Foundation.
The UKZN Foundation have introduced a novel approach to raising funds for bursaries where everyone can participate.
According to executive director of the UKZN Foundation, Professor Anesh Maniraj Singh, the campaign is called 67 Rands for Mandela and invites each person to donate R67. "Nelson Mandela fought for social justice for 67 years.
In honour of the late Nelson Mandela, the UKZN Foundation is appealing to the public to donate as little as R67 to support one of the most powerful forms of social justice - education."
Their appeal to you is to give generously. If you can, please donate R67 monthly, if you cannot afford to donate monthly, a once-off donation would be equally appreciated.
T: +27 31 260 2389
E:
foundation@ukzn.ac.za
W:
www.foundation.ukzn.ac.za
---