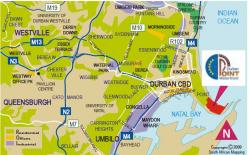 The Durban Point Waterfront
The Durban Point Waterfront, launched in 2003 on one of Durban's most
derelict and barren yet prime real estate sites, is rapidly taking shape and
promises to be one of the country's most sought after property addresses.
In the past five years as much as R1.8 billion has been committed towards
investment in the development of infrastructure and building complexes.
This excludes the R735 million cost for uShaka Marine World,which opened
in May 2004.
When complete it is anticipated that the investment at the Durban Point
Waterfront will be in the region of R6 billion. Most of the sites have mixed
use zoning and developers are being encouraged to use the ground floor
for retailing, entertainment and restaurants that open out onto sidewalks
and the canals.
Contact: Colin Sher
Rocpoint House, Timeball Boulevard, Point, Durban, 4001
P.O. Box 38073, Point, 4069
Tel: 031 337 3460 Fax: 031 337 3412
e-mail:
tiffany@laurusco.com
Website:
www.durbanpoint.co.za