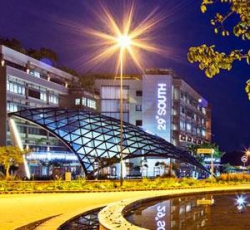 Dube City - The Opportunity
A unique opportunity exists for property developers, tenants and operators through the launch of sites and development opportunities at Dube City, adjacent to King Shaka International Airport 30km north of Durban. Dube City is the first purpose built planned aviation-related city in Africa and forms an integral part of the Dube TradePort aerotropolis.
Dube TradePort's own headquarters, 29° South, is situated in the heart of Dube City. It sets the standard for a minimum 4-star green rating by the Green Building Council of South Africa. Already established on the ground floor of 29° South is Latitude Conference Centre and Chill@ at restaurant.
Dube City, currently in its first phase of development, comprises a 12-hectare site, increasing to 24 hectares on completion. Land use has been planned to include a mix of hotel, conference, entertainment, retail and knowledgeintensive companies and company head offices, The whole site is fully reticulated with fiber-optic cabling that delivers unparalleled voice and data connectivity to businesses operating in the building. together with fully reticulated fibre-optic cabling to deliver unparalleled voice and data connectivity.
All stands are level, fully-serviced and are competitively priced to attract development. Sites are available on long-term leases, of 49 years with a right to renew for another 49 years. Options to lease current and future premises are also available.
Dube City provides a secure world class business and trade environment, with direct links to the port of
Durban and the CBD, the passenger terminal, Dube Cargo Terminal, Dube AgriZone and Dube. It enables international and domestic business activity.
The ultimate development of Dube City will consist of approximately 220,000m² of bulk. Approximately 5735 parking bays are required to support the development, of which 3884 will be provided in parkades. Developers are required to provide for parking on site as per the Dube City Urban Design Framework.
The remainder of the necessary parking will be accommodated in external parking garages and where
necessary, in internal courtyards between specific buildings. A limited amount of street parking will be
provided in phase 1 along the vehicular boulevard.
Click below link to download CALL FOR PROPOSALS DUBE CITY OVERVIEW:
DTPC Call for Proposals - Dube City 2015.pdf
- 3.6 MB