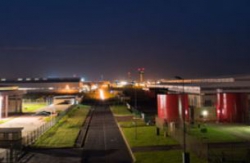 Dube TradeZone - 2015/16:CALL FOR PROPOSALS DUBE TRADEZONE OVERVIEW
A unique opportunity exists for the development of light industrial sites within the 77-hectare Dube TradeZone, a designated Industrial Development Zone adjacent to Dube Cargo Terminal and King Shaka International Airport, Durban.
Dube TradeZone â€" The Opportunity
A unique opportunity exists for property developers and tenants through the launch of sites at the 77-hectare
industrial property development at TradeZone next to King Shaka International Airport near Durban.
Dube TradePort Corporation (DTPC), as Master Developer of the TradeZone, has released sites for the first and a portion of the second phase of the TradeZone for air freight light industry, manufacturing, assembly, logistics, warehousing and distribution opportunities.
Dube TradeZone offers premium air-related real estate. It provides manufacturers, assemblers, warehouse users and distributors a distinct competitive advantage by significantly reducing transit time, goods handling and potential stock losses. Central to the TradeZone is Dube TradeHouse, where, in a world first, all freight forwarders and shippers are located together in a single facility. The TradeHouse offers integrated warehousing and office space, with fully reticulated fibre-optic cabling to deliver unparalleled voice and data connectivity.
Investment and Development Opportunities:
TradeZone 1 consists of 45 stands of varying sizes. Stands may be consolidated, where deemed appropriate. All are levelled and fully-serviced, with developers needing only to connect to infrastructure, such as water, electricity and storm water drainage. TradeZone stands are especially appropriate for air cargo-dependent industries, such as:
Freight forwarders and aviation services;
Warehousing and storage;
Logistics;
Distribution;
Light manufacturing;
Assemblers;
High-tech industries;
Automotive industries;
Clothing and textiles;
Cold storage;
Pharmaceuticals; and
Electronic manufacturing.
The TradeZone is ideal for businesses whose supply chains depend on air cargo connectivity.
Click below link to download CALL FOR PROPOSALS:DUBE TRADEZONE:
DTPC Call for Proposals - Dube TradeZone 2015.pdf
- 3.6 MB