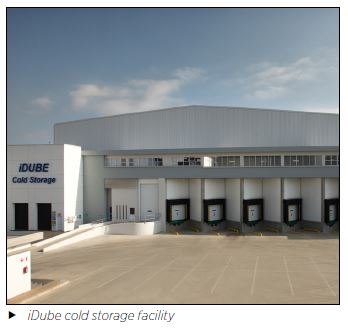 Development Zones
Dube TradePort is surrounded by development zones, namely:
Dube Cargo Terminal
As a purpose-planned airport city and master-planned business environment, infrastructure has been designed in line with freight-orientation and cargo and is supported by the King Shaka International Airport, which accommodates the world's largest new generation aircraft. Digital tracking and cargo flow through on-site statutory bodies ensures that the cargo facility is the most secure in Africa.
Dube TradeZone
Comprising 77 hectares, growing to 300 hectares, of specialised, prime and fully-serviced industrial estate within the SEZ. In close proximity to Dube Cargo Terminal, this zone is ideally positioned for new generation warehousing, manufacturing, assembling, air-related cargo distribution and more.
TradeZone One is fully leased, attracted approximately R1.08bn investments in the zone and has led to the creation of 9 880 jobs in the South African economy (both direct and indirect jobs), of which 7 395 have been created within KwaZulu-Natal.
TradeZone Two will comprise of light industrial development, which is going to be the centre piece of the drive to attract R 18 billion of new investment over the next five years. The 45ha development will create hundreds of jobs that will have an economic impact throughout the province of KwaZulu-Natal.
Mr Hamish Erskine, CEO Dube TradePort Corporation remarked, "We already have a strong pipeline of investments which we are currently working to land in the second phase of our Dube TradeZone development, these businesses are in a number of sectors amongst which are: pharmaceuticals, electronics, automotive, clothing, and textiles as well as general manufacturing and logistics. We are confident that we will be in a position to make some major announcements in this regard over the next 18 months."
Dube City
Comprising 12 hectares of premium office, retail and hospitality space - all located within an ultramodern, urban 'green' hub just three minutes from the passenger terminal.
Dube AgriZone
Part of the SEZ, this zone provides world-class facilities and technical support for propagating, growing, packing and distributing high-value perishables and horticultural products through an efficient supply chain.
Dube iConnect
All these zones are supported by Dube iConnect, the precinct's dedicated IT and telecommunications provider and KwaZulu-Natal's only locally-hosted cloud service, making it the premier offering for regional data recovery.
Service Offering
With its team of skilled experts, Dube TradePort SEZ drives the development of this competitive business environment, links both investors and developers to various regulatory bodies, thus assisting to facilitate the development process.