{BANNER_STUFF}
McCARTHY LIMITED
A ONE-STOP, VALUE-FOR-MONEY OFFERING
McCarthy represents more than 30 respected brands and consists of 220 business units spanning motor-related industries from retailing, distribution, import, vehicle rental, insurance, finance, e-marketing, auctioneering, and more. The group employs close on 6 500 staff members and is represented in all the major metropolitan areas in Gauteng, Mpumalanga, KwaZulu-Natal, Free State, and the Cape.

ONE-STOP VALUE OFFERING
McCarthy prides itself in offering customers a one-stop, Peace of Mind value-for-money offering. The group not only offers expert advice and quality service, but also a range of complementary products such as finance and insurance, 24-hour roadside and other emergency assistance through Club McCarthy, and rental vehicles through Budget Car and Van Rental.

McCarthy is a leader inelectronic vehicle retailing though McCarthy Call-a-Car, which offers customers a convenient and non-daunting means of shopping for new and used vehicles online, regardless of where they are based in South Africa.

The McCarthy brand name is synonymous with Peace of Mind Motoring, which is especially important for customers buying a used vehicle. Customers who buy a pre-owned vehicle from the group enter into a no-risk transaction, as McCarthy certifies vehicle ownership andmileage,while providing extended warranties and membership of Club McCarthy.

BACKED BY BIDVEST
The group is proudly part of the Bidvest Group and comprises Bid Auto, the automotive armof the Bidvest Group of companies. Bidvest is an international JSE-listed service, trading and distribution company which operates on four continents and employs 106 000 people.

BUSINESS DEVELOPMENT INITIATIVES
During 2009, a training programme for informal sector mechanics was launched. This programme offers free technical training and instruction in basic business skills to 'pavement mechanics' based in low-income areas. The intention is to help these contributors to the informal economy make a living while increasing awareness of the safety-critical items that need attention before old vehicles are put back on the road.

As a further contribution to supporting the development of small, emergent business owners, 21 parts delivery drivers, former fulltime employees, were empowered to launch their own micro businesses as owner-drivers. This initiative has given the drivers an opportunity to increase their income and create greater security for themselves and their families, which, in turn, has resulted in better service to McCarthy's customers.

Less than a year after its inception, the programme was lauded as an industry standard by the HSRC's Centre for Poverty Employment and Growth which noted, "McCarthy's initiative has not only achieved direct positive impact for the participants in the scheme, but has also realised a business case for socio economic development through improved service delivery and increased client base for the company."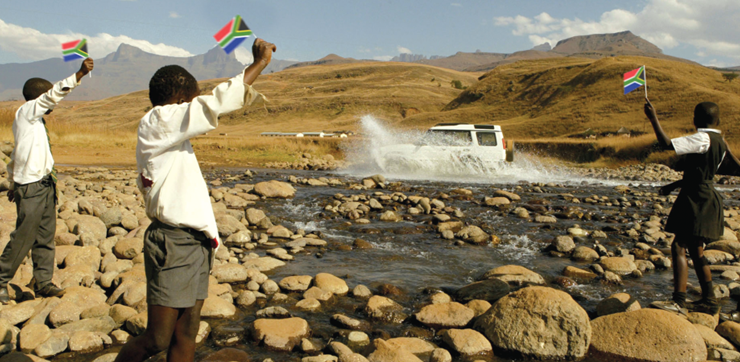 Rally to Read
TRANSFORMATION
True to its roots and values, McCarthy regards Broad Based Black Economic Empowerment (BBBEE) not only as a key element of its corporate strategy, but as a moral imperative. Together with its parent company, Bidvest, McCarthy is committed to be part of the solution to South Africa's socio-economic challenges.

IN THE COMMUNITY
McCarthy believes it has an important responsibility to contribute to the wellbeing of the wider community.With this in mind, the group has embarked on several outreach projects.

RALLY TO READ
McCarthy's flagship CSI project, Rally to Read, celebrates its 14th year in 2011. This far-reaching corporate social investment project, which is backed by the McCarthy Motor Group, the Financial Mail and READ Educational Trust, has been made amazing over the years. In the first year a group of 25 four-wheel drive vehicles delivered books worth about R100 000 to 13 schools in rural KwaZulu-Natal and the project was so well-received that it heralded the start of the annual Rally to Read.

Since then the project has grown to become national and the number of convoys delivering books and other educational material to far flung rural primary schools has grown substantially.

The participants in the 2011 Rally to Read will use their own vehicles to deliver books to the value of R3,6-million, while also kick-starting a teacher development programme worth R2,4-million. In addition these people will deliver sponsored science kits, additional stocks of books, stationery, sports equipment and other useful items to the schools they visit.

COMPUTER CENTRE PROGRAMME
The aim is to provide supplementary Maths and English education to learners in well-managed schools in disadvantaged communities in and around Durban. This is done by means of a computer-based Maths and English software programme to encourage computer literacy skills among teachers and learners and, where practical, among members of the local community, and to provide support for the schools administration.

McCARTHY BURSARY PROGRAMME
A significant number of bursaries are granted annually to students studying sales and marketing at various tertiary institutions. During their holidays they are provided with mentored in-situ work within McCarthy divisions in order to gain valuable experience in their field of study, followed by full-time employment within the company thereafter.

FUTURE
McCarthy is well geared for the future. It has a single-minded motor industry focus, a well-balanced and extensive product and service offering, and a highly committed and principled team.
Full Name of Company: McCarthy Limited
Nature of Business: Motor Retailing, Financial Services, Car and Van Rental, Vehicle Auctioneering
Services / Products: Franchise motor dealerships, Finance & Insurance, Car rental
Passenger vehicle franchises represented include: Alfa Romeo, Audi, BMW, Chery, Chevrolet, Chrysler, Citroen, Dodge, Fiat, Ford, Foton, Isuzu, Jeep, Land Rover, Lexus, Mazda, Nissan, Peugeot, Mahindra,Mercedes-Benz, Mini, Mitsubishi,Opel, Renault, Smart, Suzuki, Toyota, Volkswagen and Volvo
Truck franchises include: Freightliner, Hino, Mitsubishi Fuso, Mercedes-Benz and Nissan Diesel and Volkswagen Commercial Vehicles
Date Established: 1910
B-BBEE Status: Level 3
Auditors / Accountants: Deloitte & Touche
Bankers: First National Bank, Standard Bank

VISION
Our vision is to be the customer's first choice provider of quality, service & value in all markets in which we operate.

MISSION
The mission we are on is to:
Create & retain customers,

Provide attractive, sustainable returns for our shareholders,

Build excellent relationships with our principals & suppliers,

Be the employer of choice in our industries,

Create newopportunities through entrepreneurial energy,

Act in a way that benefits the community
KEY PERSONNEL
Chairman: Brian Joffe

CONTACT DETAILS
Head Office
Physical Address: 203 North Ridge, Durban, 4001
Postal Address: P.O. Box 794, Durban, 4000
Tel: +27 (0)31 268 9200
Fax: +27(0)31 209 0950
E-mail: tonya@mccarthy.co.za
Website: http://www.mccarthy.co.za