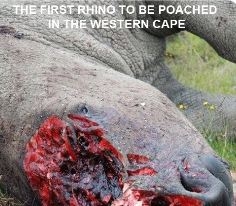 KZN Wildlife respond to implication in rhino poaching
KZN Wildlife respond to implication in rhino poaching
2011-05-02
Ezemvelo KZN Wildlife has asked the public to exercise some "very real caution and insight" before pointing fingers at its staff and the organisation's overall reputation in the fight to crack down on rhino poaching within its reserves. Dr. Bandile Mkhize, CEO of Ezemvelo, said he was "sympathetic" to those critics, be they NGO's or political parties, who are calling for action following disclosure of rhino poaching from Agriculture and Environmental Affairs MEC Lydia Johnson last week that highlighted involvement of Ezemvelo staff. His sympathy for even the most vehement of his organisation's critics stemmed from his own "abhorrence and pain" at the loss of any rhinos within his organisation's parks: "Emotionally, I am on the same page as these people who, after all, care so deeply for these great icons of ours. I find it terribly wounding that members of our staff have been and perhaps still are involved in either colluding with poachers or carrying out acts themselves".

But he cautioned that people should not be tempted to "throw in the towel" with his organisation. "Please don't fall into the paintbrush trap where a few rotten eggs damage the whole. All of you, who are so rightly outraged at internal criminal behaviour, understand, please, that you are not fully aware of what we are doing to combat this cancer. Equally I ask you to acknowledge that the poaching patterns and behaviour of yester-year are vastly different from those of today."

Dr. Mkhize asked the public to empathise with Ezemvelo's position and in doing so adopt a psychology that commands a broader and insightful grasp on the enormity of the task at hand. He described rhino poaching as a highly contagious disease that combined sophistication, on the one hand, and on the other, ordinary personal temptation to make a "quick buck" for people out in the field. "We as an organisation cannot and will not explain away personal vulnerabilities and the weakness surrounding greed and the temptation to make money. It is a human failing and we can see this greed and weakness within all of us in our own lives. On a very small scale this is evident within our organisation as, I suppose it is in the corporate world."

Ezemvelo had, after all, already fired three of its staff last year and arrested two recently in its quest to crack down on "rotten elements". It was particularly difficult for an organization of Ezemvelo's size (about 4 000 staff) to guarantee the necessary morality across the board to ensure a completely united front in ensuring rhino are not poached. "But I must say it now. Our field staff is comprised of wonderful and dedicated people and much of this ethos of professionalism stems from an institutional ethic dating way back to the great legacy of the early Natal Parks Board."

"Ezemvelo is instituting numerous strategic measures to help counteract and overcome possible internal collusion with rhino poaching," he said. "For obvious reasons I am not going to give out all our secrets and strategic planning initiatives but our commitment to preserving our rhinos in this instance is absolutely relentless. "

Dr. Mkhize highlighted a few developments such as Ezemvelo's:


Future recruitment procedures for field staff that benchmarked itself on international security standards
Stepping up unannounced checks on field rangers while on patrol
Ensuring that Section Rangers are fully aware of where their Field Rangers are patrolling
Where warranted, continuing with the policy of rotating field ranger staff, and
Constantly improving training techniques to counteract worldwide poaching methods


Referring to the sophistication of present-day poaching techniques, he said there was no use pretending that Ezemvelo has all the answers. "We simply don't and no matter how much we try, we do need private enterprise to help us and for them to take us into their confidence." "Few conservation organisations worldwide could deal with the level of financing and sophistication employed by the syndicates that are largely behind this battleground," he said. "This is a treacherous field where the criminals have AK47- and R1 rifles; they have expert military training and specialised equipment such as night vision equipment; they can call on resources we do not have - such as helicopters and cyber-technology. " He appealed to people who could help the organisation: "If you believe me that we at Ezemvelo are dedicated, even ferociously so, to beating these evil people, then I open my doors to you to listen to your advice and participate in your offers of strategic help"

Dr. Mkhize added that his organisation's relationship with the police on matters about poaching was intimate and constructive: "We are obeying instructions that we must not give out information that might jeopardise investigations. We do that for the greater good of capture and conviction. So don't feel you are being kept in the dark; there is often a strategic reason behind us not divulging all the information we have." "My staff are employing every means possible to gain the confidence and enlist further support from local communities in becoming part of the general law-enforcement process. The vast majority of local people were intent on preserving the rhinos and were helping Ezemvelo on many counts," Dr. Mkhize said.

---