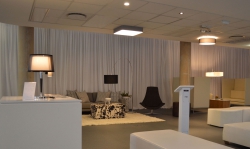 Magnet launches SLV lighting products South AfricaThere are over 3 500 products in the SLV range, all with a contemporary design and new illumination technology, to meet the trends of the constantly changing lighting market globally. 98% of this range off
Magnet launches SLV lighting products South Africa
2015-12-08
Magnet has been appointed exclusive distributors in South Africa for SLV's range of energy efficient lighting products.

The SLV range encompasses over 3 500 lighting fixtures with elements which are individually adjustable to enhance the aesthetics and area illumination of any environment. Components include surface mounted and recessed profiles and fittings; decorative lights and lamps that can be styled personally with a selection of designs and colours. LED solutions and dimmable products with retrofit lamps, as well as devices with integrated dimmable LEDs are also available.

SLV luminaires are manufactured in Germany to meet stringent international quality and safety specifications.

Magnet hosted a function at the company's eco-friendly head offices in Durban recently to mark the launch of this range and to introduce the new SLV Big White 2016 catalogue to leading architects, developers and interior designers.

This stylish range, which is available throughout South Africa from Magnet and its carefully selected distributor network, is available locally with a two week lead time. Magnet has also launched an online SLV store for customer convenience.

---