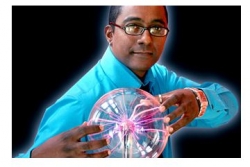 Sibiya Casino:The show is performed by world-renowned astrophysicist and life-skills coach, Dr Megandhren Govender
Sibiya Casino So You Thought Einstein was a Genius
2013-02-18
He has featured on the Ellen DeGeneres show and Eastern Mosaic and now you get to see him in his debut show, 'So You Thought Einstein was a Genius' which is set to rock the world of Science at Sibaya Casino & Entertainment Kingdom's iZulu Theatre from July 02, 2013 â€" July 07, 2013.

The show is performed by world-renowned astrophysicist and life-skills coach, Dr Megandhren Govender.

The show combines the aesthetics of dance, music and humour with mind-blowing and jaw-dropping Science experiments and facts. While a magician never reveals his tricks, a physicist readily makes transparent the magic of Science. Who better than Dr Govender (a.k.a. Dr G) who has turned the physics community on its head by presenting the most complex and sophisticated concepts in Science in a vividly bold, exciting, dynamic and beautifully choreographed show.

From rockets, marshmallow bazookas, super-cooled clouds, levitation through to dance and music â€" this spectacular show brings together mechanics, heat, sound, electricity, magnetism and light with showstopping entertainment. The show is delightfully entertaining, educational and motivational for the entire family. Be prepared to be moved by the wonders of Science while learning about the intricacies and secrets of Nature.

Shows are at 19h30 on July 02 2013 â€" July 05,2013, 15h00 and 19h30 on July 06, 2013 and 15h00 on July 07, 2013. Tickets range between R120.00 and R150.00 and can be booked through Computicket 0861 915 8000.

Described as the only astrophysicist on the planet that can combine Physics, break dance, music and humour in the most awesome show possible, Dr G pushes the boundaries of Science to the very cutting-edge.

The iZulu Theatre
The thatched iZulu Theatre is an open-sided venue ideal for major theatre productions, events and product launches and seats up to 593 guests. The dome is the largest thatched dome of its kind in the world.
---