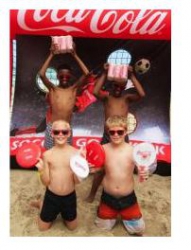 South Coast Tourism - KwaZulu-Natal South Coast beaches offer action packed Easter program
Don't be left out…get down to the Easter Fever on Margate Main Beach from 26 â€" 29 March this season and be a part of the fun! Join in the action in the sports arena's with loads of exciting competitions and prizes to be won! As always, the Easter Fever bikini babes will turn up the heat handing out thousands of rand's worth of fantastic giveaways. Watch the press for details on Miss Easter Fever entry info and stay tuned to East Coast Number 1 Radio station for more details on this fun Festival.
Open happiness with Coca Cola's Easter Tour (23rd March Margate, 24th March St Mikes, 25th March Ramsgate Beach) and be a part of this sizzling beach tour, offering non-stop beach games, competitions and excitement for the whole family to enjoy.
The fun continues with East Coast Radio on Margate Beach 31 March â€" 1st April with live Outside Broadcast's, come meet your favorite jocks, participate in the beach sports zones, and enjoy the interactive family games and great trendy beach vibes!
The Harvest Easter Gospel Truck will be visiting popular beaches along the KwaZulu-Natal (KZN) South Coast this Easter screening outdoor movies and hosting gospel bands out under the stars. So be sure to pack your alfresco picnic hampers and beach chairs to join in the Easter celebration.
Thrill seekers be sure to diarize the Just Juice Jumpathon Festival that heads towards Ramsgate, Port Edward and St Mikes beaches this Easter. This high-energy Festival is sure to keep the whole family's adrenalin pumping. It's all in the name… so get ready to Jump!
Harley-Davidsons® Africa Bike Weekâ"¢ continues the seasons festival atmosphere in Margate (28 April â€" 1 May) when the roar of thousands of engines descend on the KZN South Coast. Merchandise tents, pop up retail outlets along with wine decks, beer gardens and massive outdoor staging hosting top SA rock bands, all set within the Harley-Davidson Village, will keep the thousands enthralled.
For full program details or to be a part of this Festival contact
Vicky@wozaniafrica.co,za
or visit
www.wozaniafrica.co.za