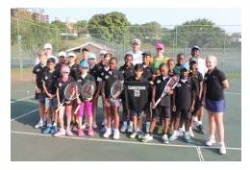 South Coast Tourism - Its game, set and match on the KwaZulu-Natal South Coast
South Coast Tourism - Its game, set and match on the KwaZulu-Natal South Coast
2016-02-15
In keeping with the vision to grow tennis in all the districts of KwaZulu-Natal, according to Leonard Morgas, President of KwaZulu-Natal Tennis Association, the inaugural South Coast Open Tennis Tournament 2016 is part of a developmental tennis journey that aims to expose the junior and adult tennis talent of the province to the people of the greater South Coast region.
`Part of the plans include a tennis development clinic for the local youths at one of the venues during the tournament', says Morgas. `This development clinic also aims to identify new talent and to ignite fresh interest in the sport'.
Seeing the benefit for the community at large, using sport as a way to inculcate a culture of health and fitness with the added benefits of potential career opportunities, Ugu South Coast Tourism has committed funds and resources as the naming sponsor of the inaugural South Coast Open Tennis Tournament 2016. Other sponsors include Dunlop Fort ball and National Lotteries Board who are the overall sponsor of KZN Tennis Association and their Development programme.
It is anticipated that there will be approximately 100 players participating comprised of 60 men and 40 women. The tournament takes place between 19th - 21st March at the following venues on the South Coast - Umtentweni, Uvongo and Douglas Mitchell Tennis Courts. There will be up to 30 youth participating in the Development Clinic, all under the age of 10 years.
A keen tennis player himself, Ugu South Coast Tourism's CEO Mr Justin Mackrory says `Sport and tourism go hand in hand. We are honoured to host this event and trust that the players and spectators will be well impressed by our offerings here on the greater South Coast. We would like to thank The KZN Tennis Association for considering our destination as the home to this inaugural event and look forward to seeing this event grow year on year'.
For more information please contact Natalie Grandin, Tournament Director, KZN Tennis Association Tel: 0810883858
1stopentry@gmail.com
and visit
http://www.kzntennis.co.za/
---