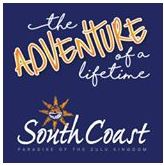 South Coast Tourism - Fast Facts â€" the KwaZulu Natal South Coast
South Coast Tourism - Fast Facts â€" the KwaZulu Natal South Coast
2016-03-09
365 days a year destination â€" 9 months of warm summer, 3 months of perfect winter
120km of stunning beaches from Umkomaas near Scottburgh only 45 minutes south of Durban to Port Edward and the Wild Coast Sun in the Eastern Cape
7 internationally recognised Blue Flag Beachesâ€" the most number of Blue Flag beaches permanently manned in Africa.
Hinterland offerings â€" breathtaking gorges, forests, farming scenes â€" including the Oribi Gorge and Weza Ingeli Forests past Harding
11 awesome Golf courses
Home to one of SA's top and most scenic raceways â€" the Dezzi South Coast Raceway
Host to National and international MTB series, Trail running, Enduro, Netball, Rugby, Bowling and Fishing. Eg's of events: Expedition Africa, SA Women's Golf, SA Schools Netball, Alfie Cox Invitational's, GP, Motorsport and Drifting series, beach events and competitions - over 270 events throughout the year
The greatest shoal on earth â€" The Sardine Season - 700 000 000 sardines can visit the shores between June and July each year
Home to 2 of the top 10 shark dive sites in the world â€" Aliwal Shoal and Protea Banks
The longest (and fastest) zipline in Southern Africa
The highest gorge swing in Africa
The smallest desert in the world
The longest water tubes in Southern Africa
The lowest coffee estate in the Southern hemisphere
Wedding and honeymooners delight
Ideal Conference and corporate think tank getaway venues
Cultural emergence with a difference
Game reserve plus 9 nature reserves
Daily direct flights from OR Tambo, Johannesburg â€" 90 minute flight plus many private helipads
Over 282 Guest houses, B&B's and Self Catering establishments, 30 hotels, resorts and lodges, 24 Caravan Parks and 44 conference venues, 65 restaurants and 4 contemporary shopping centres â€" Ugu South Coast Tourism has over 500 members.
Note: We have more than 30 qualified tourist guides
Diving
Shark Cage Diving
Kart Freaks
Fun Boat Trips
Fishing
Sports (Golf, Tennis, Bowling, Beach Volley Ball, Cycling)
Banana Farm Tours
Coffee Farm Tours
Swimming
Surfing
Gambling
Helicopter flips
Cultural Experiences
Health and fitness centres
Paintball
Museums
Crocodile farms
Reptile Farms
Red Dessert
Shopping
Night Clubs
Butterfly Farms
Day Spas
Canoeing
Water World
Game Drives
• Adventures
Wild Swing
Wild Slide
White water rafting
Abseiling
Hiking
MTB Trails
Suspension Bridges
Zip Line
Car Racing
Walking Trails
Gliding Tours
Bird Watching
Vulture Viewing Hide
Picnic and Viewing sites
Shooting Range
Clearwater Trail Centre
Horse Riding
Back packers
Welcome to our piece of paradise. The Paradise of the Zulu Kingdom.
For more information please contact:
Nikki Tilley â€" Marketing
marketing@tourismsouthcoast.co.za
/ 082 441 5795
Vanessa Gounden â€" Events
events@tourismsouthcoast.co.za
/039 682 7944
---