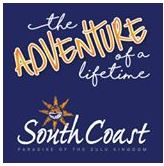 Tourism South Coast - The Happy Hibberdene Roadblock
Tourism South Coast - The Happy Hibberdene Roadblock
2015-12-18
Sometimes being pulled over at a Roadblock can be full of surprises. Like one where they give you gifts instead of groans! That's what happens down here on the sunny KwaZulu-Natal South Coast. Each year the Hibiscus Coast Mayor (HCM), in conjunction with the SAPS, the Department of Transport, Ugu South Coast Tourism and generous sponsors collaborate to spoil the visitors arriving through the Hibberdene entrance to the South Coast. And this year was no exception â€" goodies and smiles galore at the Hibberdene turnoff from the N2 South which took place on the 18th December.
Cars, bikers and caravans… yes everyone was pulled over by the enigmatic lady with the big gold chain, holding goody bags as she shook hands and exchanged smiles and shared wishes of wellbeing. This lady is the ever popular Mayor of HCM Cynthia Mqwebu who each year takes time out to lend her personal touch to the festive season.
`The South Coasters are known to be a very friendly lot, one of the many upsides of being in a non-metropolitan area. We are very proud to be involved in this initiative each year and I would like to extend our sincere thanks to all authorities involved. Also very importantly, on behalf of our Board and all Ugu South Coast Tourism Members and stakeholders, I would like to wish our visitors and locals a very safe, sunny and enjoyable season' says Ugu South Coast Tourism's CEO Justin Mackrory.
Ends.
---