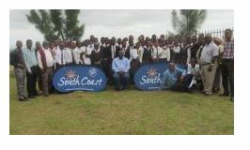 Ugu South Coast Tourism - Tourism Awareness Campaign launches successfully:Tourism Awareness campaign kwaNdelu Inkosi S. Shinga (seated), Learners from Mabuthela High School and community members
KwaZulu-Natal: Ugu South Coast Tourism received a very warm welcome from inkosi S. Shinga during the Tourism Awareness Campaign which took place at KwaNdelu Traditional Council on the 2nd of March 2016. Izinduna, community members and learners from Mabuthela High School appreciated this occasion as it was the first time they were visited by the tourism sector.
Topics covered in this campaign include highlighting the importance of everyone's roles as ambassadors â€" with attendees gaining a clearer understanding of how tourism has such a significant knock-on and multiplier effect, regardless of individual's backgrounds, culture or religion. In addition, safety and awareness elements are discussed and information about Ugu South Coast Tourism's Sunny and Safe campaign are detailed.
`We are very proud of this campaign and the fact that it has been adopted by province means we are on the right track' says Ugu South Coast Tourism's CEO Mr Justin Mackrory. `It would appear that the community at large has been hungry for guidelines in this respect and we would like to encourage people to visit our website for more information'.
A great spirit of Ubuntu was evident throughout the programme â€" with both youth and adults engaging meaningfully in the proceedings. Everyone was issued with luminous wrist bands, ensuring increased road visibility at night for pedestrians.
The Tourism Awareness Campaign launch ended with enjoying the Kwandelu Eco Cultural Adventure, which is fast becoming an increasingly popular local attraction in the KwaZulu-Natal South Coast hinterland. The area boasts a spectacular forest and magnificent views where visitors are treated to endless songs from a wide variety of bird species habiting the region.
This event was made possible by the two local tourist guides, Mr Mduduzi Njilo and Mr S.M. Shinga who recently received their tourist guide badges with the assistance from Ugu South Coast Tourism.
The Tourism Awareness Campaign rollout also included a visit to Harding at the beginning of March 2016. It is further planned to cover the rural areas of Vulamehlo, Umdoni, Ezinqoleni and Hibiscus Coast before the end of June.
Ends
Nikki Tilley Marketing and Events Specialist, Ugu South Coast Tourism
marketing@tourismsouthcoast.co.za