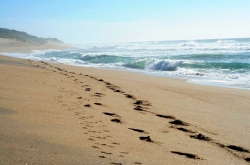 Ugu South Coast Tourism - South Coast Monster Marine Meander celebrates the Sardine Season
The inaugural Monster Marine Meander kicks off as part of the South Coast Sardine Season
festivities on Sunday 17th July at 08h00. This unique walk has been positioned between two
of the most beautiful Blue Flag Beaches on the KZN South Coast and is certain to become
an annual event. The KwaZulu-Natal South Coast boasts the highest number of permanently
manned Blue Flag beaches in Africa and is the proud home to 7 of these internationally
recognized pieces of paradise.
The walk takes place between Umzumbe Blue Flag and Southport Blue Flag beaches and
starts at 08.00 am sharp from Umzumbe. For those wishing to leave their vehicles at
Southport, transport will be provided, leaving at 07.30 am sharp for Umzumbe.
There is a pre-walk briefing at Umzumbe Beach at 07.50 am. Transport will also be provided
to get people back to Umzumbe from Southport after the event.
Medical and security have been very kindly provided by Lazer 911.
The upbeat event founder Mr. John Irven, local UGU South Coast Tourism Chairperson
says, "Come join the fun and discover our magical Blue Flag beaches. We have created this
annual event to highlight our unique and beautiful beaches that remain the number one
tourism asset on the KZN South Coast. We are especially pleased that funds raised by this
event will be donated to our local community project Pollyanna's Place."
The 8km walk stretches over some of the most exquisite beach terrain and participants can
look forward to local guides discussing fauna and flora whilst en route this exciting walk.
Lazer 911 as well as local marshals will be assisting the highly dedicated volunteers that
make up the Port Shepstone Tourism Cluster with all marshaling, medical and safety
requirements of participants. Entry fees are only R25 per person and online pre-registration
is available on
www,quicket.co.za
. All proceeds will be donated to the Pollyanna's Place
community project.
For more information contact John Irven 039 695 2602 or 072 362 5632 or email irven@telkomsa.net
Nikki Tilley, Marketing and Events, Ugu South Coast Tourism
marketing@tourismsouthcoast.co.za
Photo: Supplied â€" Southport Beach