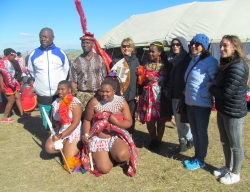 Ugu South Coast Tourism - International Tourists wowed by KwaZulu-Natal South Coast Maidens Ceremony
Ugu South Coast Tourism - International Tourists wowed by KwaZulu-Natal South Coast Maidens Ceremony
2016-07-06
This year's annual Maidens Ceremony, held on the 2nd July, has attracted the attention of an increased number of international tourists, from countries such as Germany, Ireland and Switzerland. Not limited to maidens from the area, the event also enjoyed large number of visitors from surrounding areas and also from various destinations nationally, including visitors from Cape Town. The Maidens Ceremony celebrates young girls' purity and their deep commitment to the Zulu culture.
Says Justin Mackrory, CEO of Ugu South Coast Tourism `The event was highly successful and saw hundreds of maidens and visitors gather at KwaNyuswa, Ezinqoleni. We are extremely proud of our heritage and continue to support this event given its immense value in showcasing our culture. In addition to this, the interest this event creates, more specifically in our international markets, addresses one of our core mandates â€" development of the area through people, product and place. Cultural immersion is still very high on visitors' lists and an event such as the Maidens Ceremony is proving to become a must-do event on many of their agenda's.
Another key objective of the ceremony is to identify maidens who could qualify for the famous Reed dance, which takes place in September at Nyokeni, kwaNongoma every year.
As the festivities continued, participants and visitors enjoyed the traditional meals that were served, especially "ujeqe" (South African Steamed Bread).
Nikki Tilley, Marketing and Events, Ugu South Coast Tourism
marketing@tourismsouthcoast.co.za
---