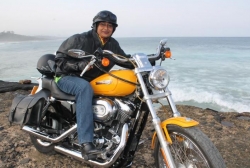 Ugu South Coast Tourism hosts South Coast Bike Fest 2017
Pre-registration drive at Shelly Centre this weekend with lots of prizes to be won!
Residents and visitors who will be around during the inaugural South Coast Bike Fest 2017 in Margate, are urged to pop in to Shelly Centre this weekend, 1-2 April, to pre-register for the inaugural South Coast Bike Fest 2017.
Ugu South Coast Tourism will host the pre-registration drive at its Shelly Centre Visitor Information Office and be on hand to answer any questions about the upcoming mass event. Assistance from friendly staff will make it quick and easy to register online.
But that's not all, up for grabs during this weekend's pre-registration drive are 10 tickets to pillion ride at the Parade (non-bike speak, it means you can ride on the seat behind a biker); one double ticket to the Main Stage; plus the chance to have drinks with your favourite artist performing at the South Coast Bike Fest!
The pre-registration is mandatory for access to the event, which will take over Margate Main Beach 27-30 April.
This forms part of extensive safety and security measures to keep bikers, thrill seekers, music lovers, and families save during the show.
Registration is free, allowing access to the Main Beachfront Boulevard, secure parking and most of the event highlights. These include the Experiential Energy Zone, Mardi Gras Market, Flying Fish Hospitality Deck, The Gravity Clash Action Sports Show and the Flying Fish Pool Party. At the Village Pier Rock Stage, bands such as Winston Smile, Dixieland Jazz Quartet, Hinds Brothers, Black Water Band, Kevin Hinds, Andile Yenana Quartet, David Marks, Phil Moffet, Brian Finch, Wiam Otto, Circle of Stones, Jack Hammer, Aden Hinds and the Hairy Legged Lentil Eaters form part of the entertainment line-up.
For access to the Carling Main Beach Stage, where 22 of South Africa's top bands will perform, tickets are only R130 per day or R200 for the cocktail bar day pass. For a VIP 4-day pass the cost is R360. The Carling Main Beach Stage will feature 7-10 bands a day. Bands include Koos Kombuis, Jack Hammer Band, Die Heuwels Fantasties, Jack Parow, Fokofpolisiekar, Gamalakhe Afro Pop Ensemble, Phil Moffet, Andile Yenana Quartet, Brian Finch, Rubber Duc, Freshly Ground, Prime Circle, Hairy Legged Lentil Eaters, Hinds Brothers Band, The Kickstands, The Gus Brown Band, Majozi, Matthew Mole, Gangs of Ballet, Tender Mavundla, PJ Powers and Just Jinger.
Says Justin Mackrory "The greater South Coast and its hinterland will be the place to be over the long weekend at the end of April. We urge all to pre-register and book to avoid disappointment."
For more information:
South Coast Bike Fest â€" Vicky Wentzel - +27 82 812 7944
Ugu South Coast Tourism â€" Vanessa Gounden - +27 39 682 7944
Pre-registration and latest event information â€"
www.southcoastbikefest.co.za
/ENDS
Disseminated by:
Olivia Jones Communications
On behalf of:
UGU South Coast Tourism
Justin Mackrory (CEO: UGU South Coast Tourism)
For more information please contact:
Olivia Jones Communications
Cell: 083 653 1720
Email:
media@oliviajones.co.za