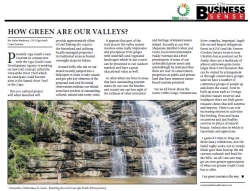 Justin Mackrory CEO Ugu South Coast Tourism - How Green Are Our Valleys?
Presently Ugu South Coast Tourism in conjunction with the Ugu South Coast Development Agency is working
on new trail concept called the Umzumbe River Trail which we anticipate could become akin to the famed Otter Trail in the Cape.
This eco-cultural project will when launched will provide approximately 65km of trail linking the coast to the hinterland and utilising locally managed properties in traditional areas as hosted overnight stops for hikers.
Howard Kelly who sits on our Board recently jumped into a helicopter in order to take visuals and geo-plot key elements of the proposed trail and his initial observations indicate our inland areas have pockets of outstanding cultural, natural and scenic value.
It appears that part of the trail area in the valley system involves some really impressive and precipitous river gorges with waterfalls and vegetated landscapes which in due course can be presented to our outdoor markets and have a great educational value as well.
So often when one lives in areas that have outstanding tourism assets (in our case the beaches and ocean) one can lose sight of the richness of other terrestrial and heritage orientated assets inland. Recently at our Port Shepstone Member's Meet and Greet, local environmentalist Paddy Norman did a brief presentation of some of our unheralded green assets and astonishingly he indicated that there are over 35 conservation
properties on public and private land that have immense nature based tourism potential.
Yes we all know about the iconic Oribi Gorge, Umtamvuna River complex, Impenjati, Ingeli (the second largest indigenous forest in KZN) and the Vernon Crookes Nature Reserve near Umzinto but as pointed out by Paddy there are a multitude of almost unknown gems (some larger than 2 000 hectares) that can be visited by arrangement or through conservancy groups (and we have a number of committed groups of people up
and down the coast). Even in built up areas such as Uvongo (Skyline Nature Reserve) and Southport there are little green treasure chests that will surprise and impress. There is an ever increasing interest in activities
like birding, flora and fauna excursions and just healthy exercise in places of natural beauty. Indeed sites in which to rejuvenate and appreciate.
I guess it's time to drag out those dusty veldskoens, don the faded rugby socks, not so trendy khaki gear then load up the old canvass rucksack and head for the hills- we all I am sure may get an even greater appreciation of what our greater South Coast has to offer.
Our green tourism is the way.
ceo@tourismsouthcoast.co.za