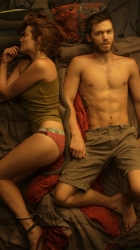 Local thriller SERPENT to headline DIFF 2017
SERPENT, a South African film by Amanda Evans, will open DIFF this year and audiences are in for a thrill. The film has made significant international headways since its launch last year with international distribution already secured.
It is a gripping, spine-tingling tale of love, betrayal and the ultimate sacrifice. It follows a couple's emotional journey as they battle to find and reignite their love, in a wilderness where they are trapped in a tent with a serpent. As secrets unravel, with no escape, they are forced to deal with their demons, simultaneously making life and death decisions.
The trailer, is executed exceptionally well, and even that doesn't do justice to the actual film, which is a masterful piece of work, notwithstanding a directorial debut. It is a profoundly beautiful yet painful example of the contradictions of love and life and the suspense is brilliantly maintained ensuring a captivated audience for its entire duration. A story so well-crafted and executed it leaves one begging for more.
"Evans' work is a fitting film to open the festival this year. Although it was selected on merit, it is a great example of the potential of film development initiatives in the country to unleash the creative industries' economy in South Africa. As an unpredicted plus, having a film directed by a female is also aligned with our women-led film focus this year and my vision for a more inclusive DIFF" said Zhou.
Accreditation for DIFF 2017 is open. Submit name, surname, picture and ID no. to sam@unamiconcepts.co.za or visit http://vp.eventval.eu/cca/diff2017/login to register.

ENDS.
For media related queries contact
Samukele Ngubane- DIFF 2017 PR Manager
Cell: 078 556 0965 | E-mail: sam@unamiconcepts.co.za
For more information on the DIFF 2017 and the Centre for Creative Arts please contact
Noluthando Lamula- Centre for Creative Arts Publications Officer
Tel: 031 260 1650 | E-mail: lamulan@ukzn.ac.za
ABOUT THE FESTIVAL
The Durban International Film Festival (DIFF) is one of the biggest festivals of its kind and the longest running film festival in Africa. Over the years DIFF has been successful in bringing together different filmmakers and industry experts from around the globe, recognizing talented filmmakers whose work may not have made it onto the mainstream, creating platforms for learning and a breeding ground for growth within the industry.
____________________________________________________________________________________________
The 38th Durban International Film Festival is organized by the Centre for Creative Arts at the University of KwaZulu-Natal, with support from eThekwini Municipality, KwaZulu-Natal Film Commission, the National Film and Video Foundation, German Embassy, Goethe Institut, and a range of other valued partners.