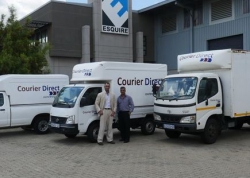 Esquire Technologies launches its own courier company
Esquire Technologies launches its own courier company
2016-01-13
Esquire Technologies, one of the leading distributors in southern Africa of IT, mobility, digital and consumer lifestyle products, has launched its own courier company in order to cut costs for its clients, making use of the online ordering process. The solution is also aimed at being a win-win for its Virtual Reseller Network, which boasts more than 500 online stores.

The courier service, called Courier Direct, already boasts a fleet of 12 vehicles â€" and is expected to be fully operational by the end of January 2016. The launch will be phased in once Web Services, which is currently in final development phase, is completed â€" and final finishing touches are done to the CourierDirect website.

"Setting up CourierDirect has been a multi-million Rand investment," said Asgar Mahomed Managing Director of Esquire Technologies. "The company will essentially piggy-back off Esquire's existing infrastructure, including the branches in Midrand, Cape Town, Durban and Port Elizabeth."

Frank Nolte, General Manager of CourierDirect, said the company would operate nationwide and, where the company had no presence, independent couriers would be contracted.

"The rationale behind starting up a new courier business when there are already so many options available, is that if you are a small scale e-commerce start up, using courier services can prove to be very costly at times. You need to make sure that the margins are good enough for you to continue using a particular service provider â€" yet make sure that the service is reliable. Accordingly, almost all courier companies have a similar price structure charge," said Nolte.

A classic example will be for small sizes. Here it is weight based and for large sizes, it is volume based. Some courier companies divide the delivery in zones and have different pricing for different zones. But in the end it all comes down to the fact that they all have a similar pricing structure.

"That is why we are adopting a different approach which will enable us to bring prices down. We will, for instance, charge per delivery â€" whether we are transporting one or five TVs. Basically what we are doing is converting our standard delivery into a more formalised courier service.

"We see this as a value added service to customers and, because we fundamentally already have the logistics in place, we will be able to hit the tarmac running â€" providing a fully-fledged courier service from the first day of commercial launching," said Nolte.
---