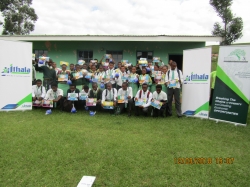 Ithala SOC Limited - KZN Learners Become Money Savvy During Global Money Week Celebrations
Over 100 learners from rural schools in Bulwer, Estcourt, Mandeni and Port Shepstone got to grips with money matters during Global Money Week with the help of Ithala SOC Limited volunteers and employees.
Starsaver is a national savings campaign, adopted as an annual programme championed by the South African Banking Association of South Africa and the broader financial sector, with the aim of teaching children to save in order to foster a culture of savings.
The programme highlights the important role that volunteer bankers and financial sector professionals can play in educating our nation's youth to become lifelong savers.
South Africa is one of 137 countries that take part in the Global Money Week programme aimed at encouraging learners to be savvy about money, saving, becoming gainfully employed, improving livelihoods, wealth and becoming independent and responsible income generating citizens.
"It is vital for the youth to be empowered about money matters and saving as we work towards closing the inequality gaps; creating wealth and building a better future for them," said Sandile Xolo, Ithala SOC Limited's Marketing and Communications Manager.
"The pay-off line for Global Money Week Money Matters Matter is spot-on because youngsters need to receive financial knowledge and develop skills to make smart money-related decisions throughout their lives," he said.
The programme was a hit with teachers and pupils alike. Dudu Shezi, a teacher from Mandlezizwe High School in Bulwer said she was very happy that Ithala had come to teach learners about financial literacy.
"It is important that the learners, especially Grade 12's, gain financial knowledge as they progress to university and begin their search for work," she said.
"They will be on their own. They need to make the right decisions when it comes to money and the programme offers them much guidance and support," she said.
Zenande Mathenjwa, a grade 12 pupil from Mandlezizwe High School, also congratulated Ithala on this initiative. "These lessons prepare us for the real world; now we are equipped," she said.
Other participating schools were Ngonyama High School in Bulwer; Celukuphiwe Combined School in Estcourt; Gqumeni Primary School in Mandeni and S'dumile Primary School Port Shepstone.
Participating in the international drive is a small part of Ithala's ongoing efforts to teach youngsters about saving and managing their money. This year, the organization plans to take the Starsaver campaign to a further 26 schools in KwaZulu-Natal.
"At the schools, Ithala volunteers and representatives' talk to learners about their needs and wants to address the "instant gratification" syndrome which exists amongst youth," said Xolo.
"Many young people do not save because they think they do not have enough money to save and believe that this is a luxury they cannot afford.
"One of the key aims is to instill a discipline of putting money aside no matter how small the amount. We use real life examples of saving just a small amount and then show how this can grow over a period of time.
"Our message is simple: starting small makes it easier to increase savings as you grow up and money becomes more available. This is the first step in the journey to financial freedom."
To date Ithala volunteers have reached over 46 schools and engaged with over 10 000 learners in the province.
Ithala SOC Limited is a wholly owned subsidiary of Ithala Development Finance Corporation and is a pioneer in banking the unbanked in KZN.
A current distribution network of 39 branches in KZN provides convenient transacting facilities. Ithala offers a comprehensive portfolio of corporate and personal banking solutions.
For more information visit www.myithala.co.za, call 031 366 2500 or follow #MoveToIthala.
Ends
Issued by: Ithala SOC Limited Head Office
303 Dr Pixley KaSeme (West Street)
15th Floor Delta Towers
Durban