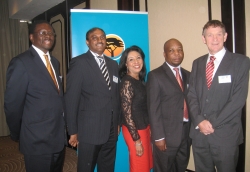 Kgosi Ledimo â€"CEO Local and Provincial Govt FNB Public Sector Preggie Pillay-Provincial Head FNB KZN Lalita Dhasiar-Ventura Publisher KZN Top Business: Nick Nick Montso-Regional Director FNB KZN Public Sector Grant Adlam ; Publisher KZN Top Busines
FNB KZN Top Business Portfolio Awards 2013
Durban; 8 May 2013
- Today First National Bank (FNB) announced that entries to the 2013 FNB KZN Top Business Portfolio Awards are now open and encouraged both business and government to submit their nominations.
This year, the 7
th
Annual FNB KZN Top Business Portfolio Awards, in partnership with the publishers of the KwaZulu-Natal Top Business Portfolio, will once again acknowledge the achievements of successful companies from across KwaZulu-Natal.
"First National Bank has been a very proud sponsor of the awards since their inception. The awards not only recognise the achievements of successful companies in KZN, they also highlight that success is not limited to major commercial endeavours, and that a wide spread of organisations can contribute to the strength of the local economy. This initiative is a great opportunity for entrepreneurs to be profiled as well as be recognised in the industry; and we are fortunate to be associated with it," says Preggie Pillay; FNB KZN Provincial Head.
The judging criteria include the organisation's contribution to the economy of KwaZulu-Natal, and the principles embodied in the 2009 King Report on Corporate Governance (King III). Factors such as brand and reputation, stakeholder relations and goodwill, environmental sustainability, social responsibility, and quality of governance are all taken into account.
Businesses in KZN can compete across the following categories:
Agriculture; Mining and Quarrying; Manufacturing; Utilities; Construction; Trade; Transport; Storage and Communication; Financial and Business Services; Social and Community Services; and Tourism. In addition, a municipal award is given to a district municipality for the promotion of investment and economic growth as well as an award to a government department for a project contributing to socio-economic growth. This year FNB and the KZN Top Business Portfolio are delighted to announce a partnership with Trade and Investment KZN (TIKZN), which will result in a new award being given.
"We believe that these success stories will inspire entrepreneurs and smaller businesses to greater heights, contributing to the greater good of the Province," adds Lalita Dhasiar-Ventura; Publisher of KZN Top Business Portfolio.
Entries and nominations are invited, with full information and entry forms available under the FNB Awards banner at
www.topbusiness.co.za
. The closing date for entries is 31 May 2013 and winners will be announced at a gala event on 9 July 2013.
In addition, the public are invited to participate in the judging of the Top Brand Award. This highly popular category is judged solely by public online vote, and is directly linked to public perception. The winners include organisations that contribute to sustainability and growth of the economy with the key focus on customers, suppliers and most importantly their staff
-Ends-
For more information contact:
Lalita Dhasiar-Ventura
KZN Top Business
Tel: 031 823 1446, E-mail:
Lalita@icon.co.za
Patty Seetharam
FNB Corporate Communications
Tel: 087 312 4639, E-mail:
pseetharam@fnb.co.za