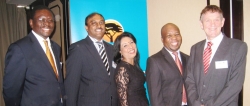 Kgosi Ledimo -CEO Local and Provincial Govt FNB Public Sector Preggie Pillay-Provincial Head FNB KZN Lalita Dhasiar-Ventura Publisher KZN Top Business: Nick Nick Montso-Regional Director FNB KZN Public Sector Grant Adlam ; Publisher KZN Top Busines
First National Bank (FNB) together with the publishers of the KwaZulu-Natal Top Business Portfolio are currently in their final stages of preparation for the seventh FNB KZN Top Business Portfolio Awards.
"First National Bank has a lot to celebrate in KwaZulu-Natal and is proud to be associated with the KwaZulu-Natal Top Business Portfolio Awards. We have been the proud sponsors of these awards for six years and believe that through this form of recognition we can inspire businesses in the province to strive for success and can contribute to creating awareness of the strength of the local economy." says Preggie Pillay, FNB KZN Provincial Chairman
Co- publisher of the KZN Top Business Portfolio, Grant Adlam explains, "The awards are given in separate industry categories which present a fantastic opportunity to showcase and celebrate businesses excellence in both the private and public sectors."
The FNB KZN Top Business Portfolio Awards' criteria are drawn from the principles of the King Report on Corporate Governance 2009 (King III). Each award is based on the contribution of the organisation/company to the economy of KwaZulu-Natal. Factors such as brand and reputation, stakeholder relations and goodwill, environmental sustainability, social responsibility, and quality of governance are all taken into account.
The FNB Kzn Top Business Awards 2012 have announced the finalists in the Sector Awards. Great pleasure is taken in congratulating the following entrants
1. Agriculture
NCT Forestry
Orange Grove Dairy
Tongaat Hulett
Sappi
2. Mining and Quarrying
Corobrik
Richards Bay Minerals
Foskor
3. Manufacturing
PFK Electronics
Safal Steel
Imperial Armour
FutureLife
Fry Group Foods
Southern Africa Shipyards
Beier Industries
4. Utilities
Spring Lights Gas
Umgeni Water
5. Trade
Mr Price
Sparkport Group of Pharmacies
Saito Sewing Machines
Boxer Superstores
6. Transport
King Shaka International Airport
Mediterranean Shipping Company (MSC)
Richards Bay Coal Terminal
7. Financial and Business Services
Pro Appointments
SAICA
Armstrong Appointments
The Unlimited
immedia
SmartXchange
Women of Africa
8. Social and Community Services
TAFTA
PC Training School
East Coast Radio
Reservoir Hills Sport
Gold Circle
9. Tourism
Southern Sun Elangeni & Maharani
Suncoast Casino, Hotels & Entertainment
Three Cities
The Top Brand Award is hugely popular and is awarded solely by public online vote.
FNB and KZN Top Business Portfolio take pleasure in congratulating the top Ten Brands of KZN. These were selected by an online poll. In alphabetical order, the companies with most votes are:
East Coast Radio
Eat Greek
Imperial Armour
Saito Sewing Machines
Sibaya Casino and Entertainment Kingdom
Tafta
The Sharks
The Unlimited
Three Cities Group
Tyson Properties
The contest was again very competitive this year with a wide range of companies being included and voted for by many different brand supporters. Visit www.topbusiness.co.za to cast your vote for your winning brand. Voting closes at midnight on the 8 July 2013
The directors of FNB and KZN Top Business Portfolio look forward to announcing the award winners on the 9 July at a sumptuous gala dinner at the Durban Southern Sun's Elangeni & Maharani Hotel.