{BANNER_STUFF}
A Clear Vision for Management Education
Overview
The Management College of Southern Africa (MANCOSA) is a private Higher Education institute registered in terms of the Higher Education Act (Act 101 of 1997). It was established in 1995 as a post-apartheid empowerment institution offering affordable and accessible management education primarily to persons previously denied access to postgraduate education.

MANCOSA has 100% Black ownership, i.e. it is owned entirely by previously disadvantaged individuals in the South African context. MANCOSA's presence in the Southern African Development Community (SADC) bears testimony to its commitments to the New Partner ship for Africa's Development (NEPAD) and its commitment to the region.

Programmes
MANCOSA has developed extensive experience in working with a wide range of learners over the past 15 years in delivering a range of international and local management education programmes.

MANCOSA programmes are accredited and quality assured by the Council on Higher Education (CHE). The South African Qualifications Authority (SAQA) has recorded MANCOSA's programmes on the National Qualifications Framework (NQF). These programmes covers the areas of business administration, commerce, tourism management, functional management and leadership and range from Certificates to Master s Degrees.

MANCOSA is registered (Registration number 2000/HE07/003) with the Department of Education (DoE).

In addition, the programme is accredited by the Namibian Qualifications Authority, Zambian Ministry of Education and Mauritius Tertiary Education Commission.

Undergraduate Courses
Bachelor of Commerce (BCom) Marketing

Bachelor of Commerce (BCom) HRM

Bachelor of Public Administration Degree

Bachelor of Business Administration Degree

Diploma in Advanced Management

Certificate in Management Studies

Certificate in Local Government and Development Management
Post Graduate Courses
Master of Business Administration (MBA);

General Master of Business Administration (MBA);

Tourism Development; and

Management Postgraduate Diploma in Project Management.
The Master of Business Administration (MBA) programme has been offered since 1995.MANCOSA's MBA is highly regarded throughout the world with students from Turkey, Finland, Australia, the USA, China, Dubai and Russia, the Middle East and indeed the entire African continent, including Mauritius.

The MBA programme encapsulates cutting-edge international business practices in an international context. This empower s students to apply their business skills using the best management approaches the world has to offer.
Capacity and Credentials
In delivering its range of management education programmes to a diverse body of learners from both the Public and Private Sectors, MANCOSA has developed significant capacity - infrastructural, academic and intellectual. Access to a large pool of experts, trainers and mentors in management and leadership from commerce, industry and academia continues to impact positively on the delivery of its learning programmes.

In its drive to provide education excellence, MANCOSA has collaborative relationships with many higher education institutions, internationally, such as the State Educational Institute of Novosibirsk (Russia) and Buckinghamshire Chilterns University College (U.K.).

MANCOSA's elaborate existing network of training venues are used for contact sessions with existing students throughout the year. These are managed through formal partnership agreements with other public and private higher educational institutes.

MANCOSA has an existing and active pool of appropriately qualified lecturers, trainers and resource persons to provide training in the different provinces. These resource persons also provide learners with academic support and pastoral care throughout the learning programme.

The MANCOSA main campus, based in central Durban, has a large complement of full-time academic, administrative and student support staff. It also has a large infrastructure, training facilities, modern library and the most up to date IT infrastructure and equipment to complement its high quality educational offerings. Students have access to major academic databases and can thus retrieve journals electronically.

MANCOSA Consulting, works closely with the business community at the coalface. The feedback from this interaction feeds into the development of our curricula, making learning relevant to the needs of the real world of business.

Distance Education
As a leading provider of management programmes by supported-distance education, MANCOSA has considerable expertise in the design and development of high quality and relevant course materials. It has developed unique teaching and learning strategies, particularly suited for transferring knowledge and skills to adult learners, the majority of whom are in full time employment. Given the demands of the managerial responsibilities of many of the students, there is no better option than that of the distance learning approach, which allows students to study at their own pace and time, focusing on both management education and professional development needs.

Research
Through its active research focus, MANCOSA is also at the cutting edge of the latest Management and Leadership training trends.

Careers
MANCOSA has recently launched graylink's e-recruitment solution, through partners Origen Capital to help assist graduates in finding suitable opportunities in the workplace. It is acknowledged that, globally, there is a shortage of management talent. Organisations in both the public and private sectors are searching every avenue to recruit managers and leaders with academic and operational excellence. It is hoped that the MANCOSA career portal will become their first point of call to search for talent in South Africa as well as in Sub Saharan Africa.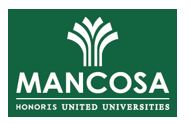 Full name of Company: Management College of Southern Africa (MANCOSA)
Services / Products: Management education, Distance learning
Date Established:1995
Customer Base: Primarily persons previously denied access to higher education.

KEY PERSONNEL
Managing Director: Prof. Hoosen Rasool

CONTACT DETAILS
Durban
Physical Address:
26 Samora Machel St, Durban Central, Durban, 4001.
Postal Address: PO Box 49494, East End,Durban, 4018, South Africa.
Tel:+27 (0)31 300 7200
Fax: +27 (0)31 300 7297
E-mail: mba@mancosa.co.za
Website: http://www.mancosa.co.za

Johannesburg
Physical Address: 5th Floor, RSA Centre, 27 Melle Street, Braamfontein, Johannesburg, 2001, South Africa.
Tel:+27 011 403 9493
Fax: +27 011 403 0980
E-mail: mancosa@iafrica.com

VISION
MANCOSA's vision is to be recognised as a leading,world-class higher education institution that is committed to quality, equity and excellence in the development and delivery of its programmes.

MISSION
MANCOSA's vision includes expanding its programmes into the SADC countries, thus providingmuch needed higher education to develop an entrepreneurial spirit that ultimately facilitates social and economic development in the region as a whole.