{BANNER_STUFF}
METROFILE - JUST FOR THE RECORD
First established in 1983 to fulfill the growing demand for reliable storage facilities to cater for South Africa's growing business sector, Metrofile Holdings Limited (Metrofile) is now Africa's market leader in information and records storage management. Metrofile has a presence in all of South Africa's major provinces and operates from 26 facilities covering more than 73,000 square metres of warehousing space and manages more than 21 billion records on behalf of its customers.

Being the first local company to offer off-site storage solutions, Metrofile remains the only company in Africa capable of supporting all of its customers' information and records management requirements through its comprehensive product portfolio. Offering both in and outsourced storage solutions tailored to increase operating efficiency and customer service, the company also ensures that businesses and government mitigate risk and meet legislative and corporate governance requirements consistently.

Through its various group companies - including Metrofile Records Management, Cleardata, Global Continuity South Africa, Rainbow Paper Management, Metrofile Training Academy and CSX Customer Services - Metrofile's service offerings comprise file plan development, training in all aspects of records management, the supply of files, active file management (on and off-site), archival records (on and off-site), image processing, data protection, backup management, paper management, Business Continuity Management, Information Technology Service Continuity and confidential records destruction. Metrofile also supplies and maintains a wide range of business equipment including scanners, library security systems, mailing and packaging machines.

Metrofile Records Management KwaZulu-Natal
Metrofile Records Management KZN's main base of operation is located in Westmead where it offers its clients services including: Image Processing, Data Backup, Archive Storage and Management. Metrofile KZN also has a specialised site situated in Mount Edgecombe, which provides Active Records Management. In order to service the Northern KZN area, there is an additional branch located in Empangeni with services that include: Image Processing, Data Backup, Archive Storage and Management.

Currently, Metrofile KZN employs 141 permanent staff and 30 contract employees in the province. The company recently expanded its capacity by opening a state of the art active file management site in Mount Edgecombe contributing to the local economy and creating more job opportunities. Annually Metrofile KZN contributes over R19 million to the provincial economy.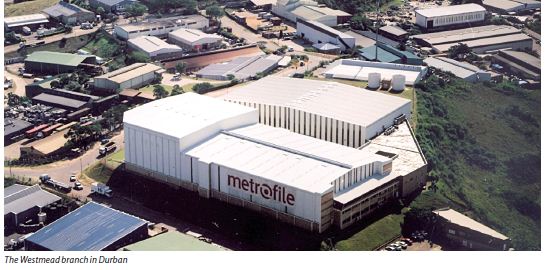 Commitment to Environmental Sustainability
Reducing its impact on the environment is a priority for Metrofile. This is proven by the fact that over the last 12 months Metrofile KZN has recycled over 931 tons of paper. This translates in material terms, according to the Paper Recycling Association of South Africa, to a saving of 2 793 square metres of landfill space, a saving of 15 827 trees and a reduction of 931 tons of coal-based emissions (CO2). Apart from these savings, Metrofile's recycling initiatives have also saved transport and handling costs to municipalities and generated jobs for local citizens.

Employing People with Disabilities
Providing employment opportunities for disabled persons is becoming increasingly important in South Africa, especially as this group is the most discriminated against when it comes to employment, according to the Commission for Employment Equity (CEE), which actively monitors employment equity transformation in South Africa. As a result, Metrofile has implemented a framework to increase the employment of people with disabilities at Metrofile in each region across the country.

While disabilities can range from physical or mental impairments - which limits one or more major life functions - those with disabilities can provide a wide range of valuable skills, talents and abilities to the workplace and as such deserve equal opportunities that other potential employees receive.

There are many advantages of employing people with disabilities. Firstly, it boosts staff morale and team development by creating a diverse working environment, which contributes to a positive work culture. Despite common misperceptions, studies have shown that people with disabilities are more reliable, take fewer days off work, are very loyal and therefore have higher retention rates and are highly productive once in the right position.

It is also important for businesses to better understand the needs of customers with disabilities; through the employment of disabled people, businesses can create more effective marketing strategies to reach a wider market.

The Future
As compliance with legislation governing information and records management - including the New Companies Act, the Financial Advisory and Intermediary Services Act and the soon-to-be promulgated Protection of Personal Information Bill - becomes increasingly important for South African Businesses, Metrofile believes it will play a pivotal role in assisting businesses to better ensure good corporate governance and risk mitigation requirements are met.

By continually reviewing the regulatory environment for threats and opportunities, Metrofile is able to provide the most sophisticated and up-to-date solutions. With no sign of these regulatory requirements abating, Metrofile believes it stands firm as a sound business partner for local businesses for the foreseeable future.

Metrofile has been listed on the JSE since 1995 and its largest shareholder is its empowerment partner, Mineworkers Investment Company (Pty) Limited, which owns 32.9% of Metrofile's equity.

Visit http://www.metrofile.com for more information.
 
Full Name of Company: Metrofile (Pty) Ltd
Industry Sector: Financial and Business
Services

Services / Products: Records management,
image processing, data protection,
information solutions, paper management

Date Established: 1983

Customer Base: 14,000 clients nationally 2500
in KZN

No. of Employees: 934 nationally and 155 in
KZN

B-BBEE Status: Level 4 contributor
Auditors / Accountants: Deloitte
Bankers: Standard Bank
Advertising / PRO Agency: Epic
Communications

KEY PERSONNEL
Managing Director: Guy Kimble
General Manager: Brad Dallas
Financial Manager: Kerry Herman
Sales and Service Manager: Aaroni Iyer

CONTACT DETAILS
Physical Address: 3 Clubhouse Place,
Mahogany Ridge, Pinetown, 3610
Postal Address: PO Box 15923, Westmead,
3600
Tel: +27(0)31 716 6500
Fax: +27 (0)31 716 6501
E-mail: bradd@metrofile.co.za
Website: http://www.metrofile.com
Metrofile

SA DIRECTORS CAN FACE JAIL TIME FOR POOR RECORD KEEPING
2011-10-05
20 September 2011: Directors of South African businesses need to ensure that they are fully compliant with the latest record keeping regulations in terms of the new Companies Act, in order to ... continue reading ›

SPIKE IN NATURAL DISASTERS HIGHLIGHTS IMPORTANCE OF DATA STORAGE SOLUTIONS
2011-10-05
24 March 2011: The string of natural disasters that have struck both globally and locally in 2011 have highlighted the importance for businesses to ensure they have sufficient data storage sys... continue reading ›

MOBILE WORKFORCE INCREASES RISK OF LOSS OF CRITICAL COMPANY DATA
2011-10-05
May 2011: An increasingly mobile workforce presents a number of risks for organisations regarding the loss or theft of sensitive company information, highlighting the importance for businesses... continue reading ›
Archived
Most Popular

SA DIRECTORS CAN FACE JAIL TIME FOR POOR RECORD KEEPING
2011-10-05
20 September 2011: Directors of South African businesses need to ensure that they are fully compliant with the latest record keeping regulations in terms of the new Companies Act, in order to ... continue reading ›

SPIKE IN NATURAL DISASTERS HIGHLIGHTS IMPORTANCE OF DATA STORAGE SOLUTIONS
2011-10-05
24 March 2011: The string of natural disasters that have struck both globally and locally in 2011 have highlighted the importance for businesses to ensure they have sufficient data storage sys... continue reading ›

MOBILE WORKFORCE INCREASES RISK OF LOSS OF CRITICAL COMPANY DATA
2011-10-05
May 2011: An increasingly mobile workforce presents a number of risks for organisations regarding the loss or theft of sensitive company information, highlighting the importance for businesses... continue reading ›
---