THE FACE OF THE PRODUCT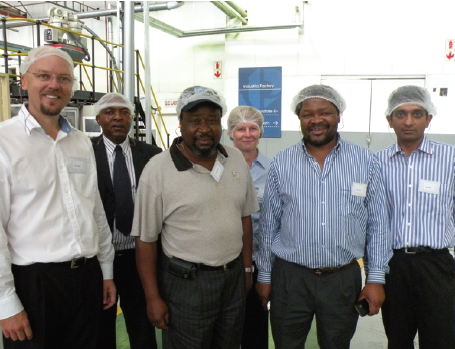 Nampak Liquid is a proud member of the greater Nampak Group, the most diversified packaging company in the Africa. No other packaging company produces as wide an array of packaging options. Spanning across rigid plastics, flexible plastics, metal, paper and glass Nampak offers its customers just about every type of packaging imaginable. Backed by expert advice by Nampak's R&D facility we specialise in providing the best possible pack type for the product.

After all, as the packaging becomes the face of the product, it must be attractive, protect the contents in transit, ensure shelf life and be available in convenient portions.

Nampak Liquid KZN not only specialises in the production of HDPE and PET plastic bottles, but also in the provision and serving of the complimentary filling machinery with technicians on 24 hour standby.

LIQUID KZN CHALLENGES
As all products have to packed, packaging is a very good leading economic indicator.When the economy is doing well, people buy more and therefore packaging sales do well. Unfortunately the contrary is also true. In the current economic environment we are navigating the challenges of:
Declining disposable income in the consumer market
Rising costs of raw materials, transportation and power
Increasing attention to environmentally friendly packaging and production processes.
ADDRESSING COSTS THROUGH THE ERECTION OF INPLANTS
By placing mini-Nampak plants in our customers plants and blowing the bottles on site, we do away with the cost of transporting the empty bottles to the customer to be filled. The inplants also substantially reduce the company's carbon footprint on the environment.

We have two inplants in KwaZulu-Natal, one in Clover Queensborough and the second was recently opened at Orange Grove Dairies in Dundee.

FUTURE AIMS
As always we have numerous exciting projects but we don't want to let the cat out the bag yet!

SOCIAL RESPONSIBILITY
Nampak Liquid Westmead is extremely involved in the KwaZulu-Natal community and has an outstanding track record of social responsibility initiatives. To mention a few: Participated in the Jimmy Carter Habitat for Humanity project.

NP Liquid KZN donated the packaging for the beverages supplied to the builders of the houses for the under privileged.

In conjunction with the Rotary Club we donated an entire truck load of 5L bottles to the community in Valley of 1000 Hills. With the bottles they could fetch and transport clean water from the local mission station back to rural areas.