Affordable and Accessible Healthcare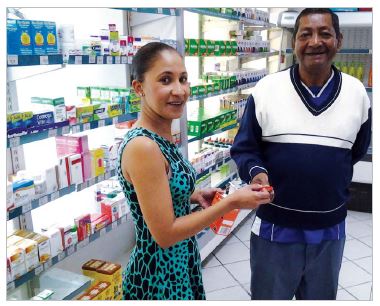 Complete affordable and accessible
health care... this is the vision of
the Sparkport Group. This vision
has been achieved by developing
a creating a hyper-pharmacy,
which would revolutionise the
retail pharmacy industry, by
providing affordable, accessible
healthcare as well as the widest
possible range of goods at
competitive prices.
Founded in 1983 as a single
pharmacy in Sparks Road, Overport,
the Sparkport Group of Pharmacies
is now currently located throughout
KwaZulu-Natal. Goolam Mahomed
and Solly Suleman, lecturers in Pharmacy at what
is now the University of KwaZulu-Natal, decided to
leave the field of education and brave commerce and
industry and open a small 100m2 shop, on the corner
of Sparks Road in Overport Durban.
Since then, Sparkport has established itself as a
household name and a recognised innovator in the
healthcare sector that is sensitive to the needs of the
public. From small beginnings, through the sheer
dedication and commitment by these two visionaries,
the group has grown significantly, and now comprises
nine pharmacies throughout KwaZulu-Natal, including
four franchised stores in Chatsworth, Umlazi, Hillcrest
and Raisethorpe. The team has also purchased
land adjacent to the Overport branch and built
the pharmacy into the modern, state of the art design
that it is today.
Sparkport Pharmacy has been voted the Best
Pharmacy for nine years in a row, in the Independent
Newspaper Readers Choice Awards. They have also
been awarded a PMR Diamond Arrow award and
were a finalist in the FNB KZN Top Business Awards.
The Group continues to provide their customers with
affordable and accessible healthcare, and serving
them with care and courtesy.

Building from a Clear Strategy

The success of the company is founded on a coherent
marketing strategy to be innovative and sensitive to
the needs of the public, a strategy which has clearly
been successful.
Each pharmacy is managed by qualified in-house
pharmacists and the franchise pharmacies are owned
and managed by pharmacists. This ensures that
customers receive the professional healthcare and
service that Goolam and Solly know to be an essential
pillar on which they built their business.

Innovative Healthcare Clinics

In 1992, Sparkport introduced their first Sparkport
Clinic. Now emulated by many of their competitors,
this was the first of its kind in KZN.
The clinic offered affordable Primary and Community
health care to their customers. Staffed by a professional
nurse qualified to conduct most screening tests, these
clinics offer a range of services from minor diagnostics
and treatment within their scope of practice, wound
dressing, health education, immunisations for babies
and children, family planning, pap smears, travel and
flu vaccinations and Vitality and Oxygen Medical Aid
assessments.