Adding quality to life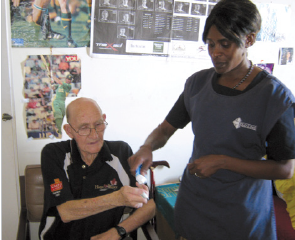 The Association for the Aged, TAFTA, is a high performing welfare organisation promoting and enabling older persons to meet their own needs.
With a proven business model for growth and a plan to be less reliant on donor funding and ultimately self-sustainable by the year 2020, TAFTA is working hard to cement its reputation - earned over the last 50 years - as the leader in providing safe, sheltered housing and care for older people in need in the eThekwini Municipality. It is by partnering with generous and supportive organisations with whom TAFTA has a long and proud association, that they have been able to build upon and sustain this strong performance. As one of only a few providers of affordable frail care for those who fall into the category of 'sub-economic' pensioners, TAFTA is under constant pressure to meet the ever increasing
demand.
TAFTA's mission is to alleviate the distress and promote the well-being of aged persons in Durban. TAFTA's policy is to use its resources for the aged in
the most effective and efficient manner.
TAFTA's aim is to encourage the elderly to live as independent members of the community for as long as possible, and to care for those who are no longer able to look after themselves.
TAFTA is an eThekwini based organisation. The boundaries are Inanda in the north, Merewent in the
south and Hillary forms part of the western border. Services include: accommodation for the fit, frail and those requiring assisted living, social services,
Meals on Wheels, home based care, and transport to and from clinics and hospitals. TAFTA provides these services to approximately 7500 people on a
monthly basis, including the 1539 residents accommodated in 14 TAFTA buildings.
TAFTA's qualified and registered social workers are trained and equipped to provide advice and counselling to pensioners as well as their families. Home based care employs a staff of well trained home carers and domestic workers trained in the care of the elderly under the supervision of qualified home
help organiser. Home based care duties include: personal hygiene, making beds and tidying rooms, shopping, household duties such as cleaning, dusting and personal laundry as well as assisted living duties.
Meals on Wheels is a meal delivery service for the house bound elderly who cannot cook for themselves or afford to cook. A ready to eat meal consisting of soup, main course and sweets is delivered daily. Special arrangements are made for weekends where necessary.
Ageing in place is a support service offered in response to the growing need amongst older persons for services to enable them to continue living comfortably in their own homes, within familiar communities. It provides the care of a retirement complex but from a distance, without the intrusive rules and regulations and at a much more affordable cost.
TAFTA has six service centres and five social clubs that host activities, arrange entertainment and outings for the elderly, as well as serve meals. There are a number of support groups for example the Stroke Club, - which provide support to families in which a member of the family has suffered a stroke.
Entokozweni is a development by Ilungelo Labadala and TAFTA and is situated in Amaoti, Inanda district of Durban. This project includes a multipurpose centre, after school care centre, ABET, home based care, gardening project, support groups, nutrition programme, paralegal services, beadwork, hand-craft, training programmes, a village for vulnerable people and children's cottages.
TAFTA has 14 accommodation units that house 1539 older people. Three levels of accommodation - fit accommodation, assisted living and frail care. Units are rented but may also be purchased on a life rights basis in a number of complexes. The organisation's accommodation facilities cater for all income groups.